Leannahollis.com is a participant in the Amazon Services LLC Associates Program, an affiliate advertising program designed to provide a means for sites to earn advertising fees by advertising and linking to amazon.com. This blog post contains affiliate links, which means if you click on the link to make a purchase, I may make a small amount of money (usually a few cents) from your purchase. It will not increase the price you pay in any way.
"I'm taking December off," I announced just before Thanksgiving. December hit with the usual fury and my good intentions flew right out the window. I not only failed to take time off, but I also geared up to a non-stop frenzy.
This morning, I turned on the Christmas tree lights, grabbed a cup of coffee, and faced a stunning realization. The area under the tree is virtually empty. I need to do some Christmas shopping in the worst way. In case you need as much help as I this holiday season, here are a few of my favorite things. They'd all make great gifts. Best of all, they're things I've purchased in the past (or have under my tree this year) and can give 5-star reviews.
Over $25
1. Instant-pots:
I bought this Lux Instant Pot last year on Black Friday.
I LOVE it and can't believe how often I use it. Worth every penny. Throw a frozen chicken in the pot, hit a few buttons, and less than an hour later you have falling-off-the-bone cooked chicken. It doesn't have a yogurt button, but you can still make yogurt in it, and I do. All the time. Slow-cooker. Saute. Bake.
I'm a little bit sorry I cooked a cheesecake in the Instant Pot because it's insanely easy and ridiculously delicious. The pressure does something wonderful to the cheesecake. No cracks. No splits. Just amazing creaminess.
I thought I was buying this Instant Pot(below)  and, even though I love the one I have, I still wish I'd bought this one for a single reason. It has a Yogurt button. You don't have to wrap the pot in a towel while it cooks. It just does it.

Still, $20 is $20 and I might make the same accidental choice again. You can make yogurt in the Lux with not too much effort.
There is a more expensive model. I'm not sure about all its features, but it does have a sterilizer button. I'm not sure why you need it. What's not sterilized about 15 minutes of high, hot pressure? Still, it has a lot of buttons and it looks impressive. I'm not including a photo or link because I'm too frugal to support it.
2. Gourmet chocolate:
XOColatl. Their small-batch chocolate is the best I've ever tasted. It's truly gourmet and worth the price if you want a decadent treat. A box of bars will soon be under my tree as a special gift.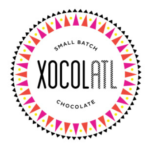 This is a pricey treat, but worth it if you love chocolate. You can get free shipping but I opted for the $7.00 shipping since it's close to Christmas and it's a major gift.
3. Happy Planners
I've used everything from DayTimers to Franklin Covey to off-the-shelf planner from the box store. This is my favorite planner of all. I have a bright-floral cover and stickers. It has wide spaces for each day on the monthly planner and daily pages too. They also come in 12-month or 18-month style. I chose the 18-month style. It's great for planning for next year. It's the best planner I've ever used.
There's a website for the company that makes these but, as far as I can tell, all you can buy is stickers. I bought mine at Hobby Lobby with a coupon but couldn't find it on Hobby Lobby's website. You can also get them on Amazon.

Different cover designs are available, so you'll want to look around. I love this planner. The $54.94 planner has metal rings but I haven't had any problems with my plastic rings. If I'd known about the choice at the time, I would still buy the one I bought. Plastic rings.
Under $25:
1. Magnetic Wristband:
I bought a magnetic wristband years ago and I still use it whenever I'm working with screws and nails. It really holds the small nuts, bolts, etc on my wristband and saves me from the drop-and-search dance. My wristband is so old I'm not sure where I bought it, but this looks like what I have:
You can buy more expensive ones, but mine wasn't expensive and it works just fine.
2. Journals:
These are nice and I love the verse on the front. They're not cluttered and the pages are lined. Great price. Great product. I've bought these before but with a different cover.
3. Dog Stuff:
I bought these light for my dogs' collars last year. I was not sure I wanted this, needed it, or would use it but I turn them on every time I send my dogs out at night. I love it that both dogs have different colored lights so I can find them in the dark.

The flashing-light mode confused my dogs and they tried to chase it. They're perfectly content with the solid light. It didn't take them long to learn the "let me turn on your light" command or the "let me turn off your light" command. These made a huge difference for me because Maggie is prone to hear a noise and take off for parts unknown. Now, I can find her every time. I use these every single day.
4. Bibles:
So, friends, I've given you several categories of gifts to consider. Happy shopping and be sure to let me know what you decide to gift. Merry Christmas and don't forget the Reason for the Season.
"For unto us a child is born…"
,
Thanks for stopping by and sharing your time with me today. I hope it's been helpful. If you enjoyed this content, follow me on Facebook, Twitter or Pinterest or sign up for the twice-monthly mailing list (below) to be notified about my future blog posts. Before you leave, would you mind taking a moment to pin to Pinterest and share on social media? It helps extend my digital reach in ways I can't do myself. Thanks again! See you soon.