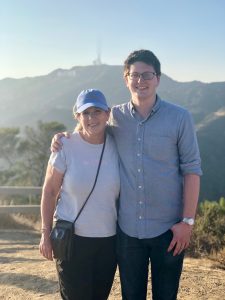 When I first wrote this blog post just before Thanksgiving 2017, I thought I'd hit an oasis after a long siege of struggle, but I was wrong. The last six months of 2017 were among the hardest of my life. Caring for Sam Wiley (my elderly neighbor who worked for me nearly thirty years) as he died was difficult emotionally and physically. Not only did I care for Sam, but also I shouldered all his farm responsibilities at the same time I continued to work full time in ministry. Most days, I fell into bed exhausted, was up and down through the night, and awakened just as tired as I'd been when I retired. 
Those days were unbelievably hard, but also among the sweetest. Sam and I had precious times together. He let go of bitterness and anger, embraced forgiveness, and gained the most peace he'd ever had. 
I marveled at the way my son faced our loss of Sam with courage and love. I rejoiced as he served Sam with tenderness and humor. I was amazed by the sweet eulogy he gave at Sam's memorial.
After Sam died, I expected an oasis of relative ease. As it turned out, the long journey of caring for Sam was just the beginning. Within a few weeks, I developed a severe viral infection in my eye that was both painful and frustrating. My vision waxed and waned. Almost everything was more difficult (if not impossible) as a result.
The eye infection finally went into remission and, once again, I expected an oasis. Before long, a brown recluse bite on my abdomen joined my list of struggles. It was painful and required quite a bit of wound care. I nearly despaired. 
Despite all the difficulties, the past year and a half was a wonderful one. I traveled, met new friends, learned new skills, and began to learn a new language. I had one adventure after another and saw the hand of God over and over again. 
In past years, I've blogged daily through November and noted one source of gratitude after another. Life's a little too hectic for that much blogging now, but I'm taking a moment to count my blessings and name them one by one today. This isn't an exhaustive list or in any particular order. It's a jumping-off spot of thanksgiving. 
I'm thankful for the empty tomb and the freedom and forgiveness that emptiness purchased for me.
I'm thankful for family – my son, Ryan, my sister, Cookie, and all the other family members who love me at my worst, rejoice with me at my best, and cheer me along when I tackle the impossible.
My Grandmother's faith is another source of gratitude. She lived her life on mission for Christ every day of her life. I'm thankful for the gift of prayer she imparted to me, and the way her frank, truth-in-love words still speak to me decades after she moved to heaven.
I'm thankful for the Word of God that is sharper than any two-edged sword. The truth in those pages continues to transform my life.
I'm thankful God placed me on the farm in 1989, and for the twenty-five years I raised cows. The sheer joy of new calves in the spring, the goats, chickens, and bunnies I raised, and Andy the pig (who nearly drove me crazy with his antics), as well as the many lessons I learned along the way, enriched my life in ways I can't begin to number.
I'm thankful for these spunky, funny, sweet Wonder Dogs that are so much more than companions and storyline material. 
I'm thankful for Sam Wiley and the many lessons he taught me over the 28 years he was with me. I'm thankful for the peace he gained before his death and the way he continued to persevere, even when life was hard. I'm especially grateful that I'll see him again in eternity. 
I'm grateful for my faithful friends, who love me through thick and thin and for the perennials they've shared with me over the years. 
I'm grateful for the reminder that God always keeps His promises, for the body of Christ, that's so much more than I can yet understand, and for the sweetness of my church home.  
The call to missions changed my life and I'm grateful for this amazing season at Global Outreach.
I'm thankful for this nation that has been blessed beyond measure and for the hope that God might, one day, make us strong in Him again. 
Veterans like my daddy fought and suffered in many ways for the freedom we hold far too lightly. I'm grateful for the ones who gave blood, limb, and life for those freedoms. 
I'm grateful for our forefathers, who established this nation on Christian principles and grateful for the promise of 2 Chronicles 7:14.
I'm grateful for the opportunities I've had and the adventurous life I've lived. My life is never boring and always forward-looking. God still has a plan for me, for which I'm deeply grateful.
No matter what our circumstances, we can choose gratitude. Let's tell the people we love and appreciate how grateful we are. Demonstrate thanksgiving in word and deed. Let's live as thankful people, not just today, but all year long.
"I will give thanks to you, Lord, with all of my heart; I will tell of all Your wonderful deeds." Psalm 9:1
It's become my tradition to read Lincoln's Thanksgiving Day Proclamation every year. Here's the link: Lincoln's Thanksgiving Day Proclamation.
______
Please like and share to help extend our digital reach. 
Here are a few other posts you might enjoy:
Choosing Contentment for a Happy Heart
Seven Steps to Regain a Heart of Gratitude
Trading My Grumbling Heart for a Grateful Heart
Why Every Day Should Be Thanksgiving
If you've been blessed by and are grateful for this digital ministry, prayerfully consider supporting this outreach. Here's the link for online donations: Global Outreach Acct 4841 
#Thanksgiving