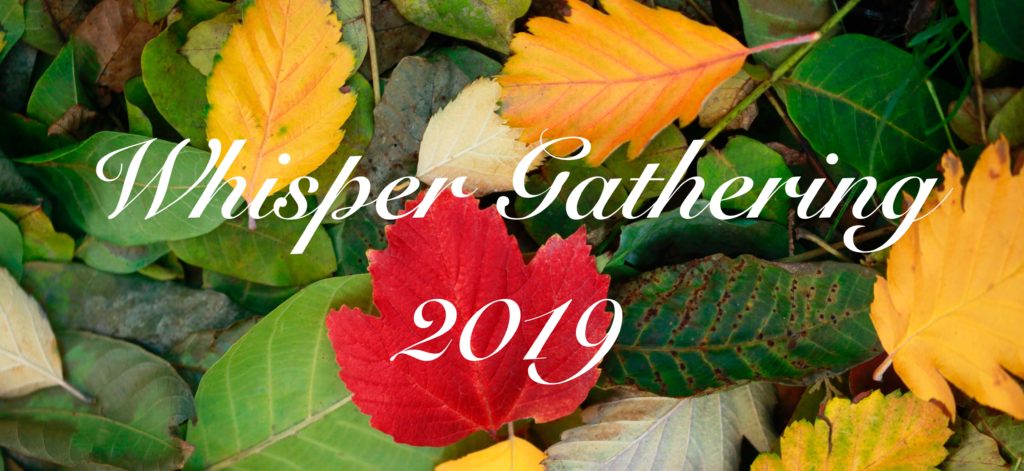 Step 1 Information Form
Thank you for your interest in the 2019 Whisper Gathering.
To fully register, first fill out the form below and then scroll down to add the registration fee and optional event shirt to your shopping cart (located top right of your device.) Click on the cart icon and complete your payment process in order to attend.
Step 2 Registration Fee
Add the registration fee to your cart. The registration fee covers two nights lodging, 6 meals, and snacks. (Bring your own linens and toiletries.) If you also wish to purchase a shirt (step 3), please add both items to your cart before checkout.(Prices look odd but they will correct at checkout. This is a Paypal issue. It automatically converts for sales tax)
Step 3 Purchase Event Shirt

 

Please note: The event shirt is a v-neck but the photo is a crew.
This step is optional, however, we hope you purchase one of our awesome shirts! (The event T-shirt is sold by Inspirations for Women. For your convenience we're collecting the money.) Please note: The t-shirt is v-neck although the photo is of a crew neck shirt. Purchase price includes tax and fees. Pick up for t-shirts are only available at check-in during the Whisper Gathering event.
Please note: When tax is added at checkout, all prices will be adjusted to equal the advertised amount.
Privacy Statement
Your information is kept confidential in our system. Once you have purchased your registration fee and shirt, we will have your information on file during the event. If you purchased a shirt, you may pick it up upon arrival at the event.