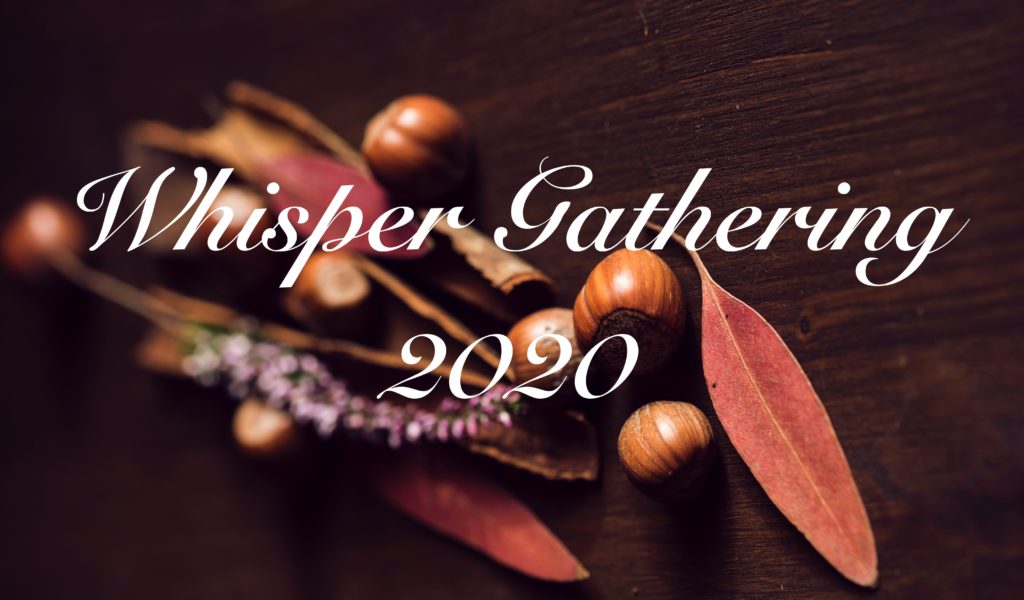 Register NowRenew. Refresh. Restore.
Thursday, September 26 – Saturday, September 28, 2020
Check in from 1:00 pm to 5:45 Thursday  Retreat ends Saturday, September 28 at 1:30 pm
Fellowship Christian Retreat at Crows Neck
281 CR 115, Tishomingo, MS
Take me to FCR Crows' Neck
Other important information:
Cost: $150 (includes 2 nights' lodging, 6 meals, and snacks)
Event t-shirt extra
What to bring: Bible, notebook, pen, toiletries, bed linens, pillow, blanket*, jacket*. Comfortable clothes.
*cabins and conference center temperatures are sometimes chilly.
Please bring a blanket with your bedding and a jacket for meeting rooms.
We will be outside some if weather permits so bring a jacket in case temperatures are cool. 
Facilitator/Speaker: Leanna Lindsey Hollis M.D.
Worship Leader: LaShay Blansett
Saturday Morning Meditation: Pastor Robbie Crane
The Whisper Gathering 2020 theme is Having a Kingdom Heart in a Me-Focused World.
The Whisper Gathering is a women's retreat designed to equip women to be still enough to hear the still small voice of God and encourage them to obey in a lifelong walk of discipleship. The name comes from Elijah's experience described in 1 Kings 19. When the Lord passed by, His voice was audible in the "sound of a gentle whisper."  (1 Kings 19:12)
Whisper weekends allow ample opportunities for powerful worship, in-depth Scripture lessons, small group team building, and opportunities to make deep connections with other women. They are usually held in a "camp-style" setting to allow both outdoor and indoor sessions. Fun activities include a "crafty" lesson designed to expand the weekend's theme with hands-on learning, table choirs, nightly s'mores by the fire pit, and lots of laughter.
Perhaps the most notable difference between Whisper Gathering and other women's retreats is the intentional emphasis on repentance of sin. Each day comes with a time of worship, Scripture teaching, examination of our own hearts in the light of  God's Word, and active repentance using a variety of innovative hands-on tools.
Many women describe the weekend as life-changing.
Feedback from 2019 attendees:
THREE THINGS I LIKED:
The environment, place for the sessions. Peaceful. Conscious of getting closer to God and nature.The food and the joy of the people who served it. Most of all, the coordinator of the program – so special.
Forgiveness bowl. Fellowship with others. Morning devotional with communion.
Repentance time, communion, the time we had for fellowship.
Glory in our midst – the God who sees. Meeting new ladies. The freedom in the flight of geese and their formation (heavenly air force)

Worship, especially the hymns. Reading Scripture together and how what all we worked on was related. The environment and facility. To be able to see creation.

All of it. Laughter. No set schedule – made it very relaxed.

Allowing things and the Spirit to flow without looking at a clock. We do enough of that daily. The attitude of "no judgment here". The teachings.
Camaraderie of the group. Openness of the people. Love shown to eat other.

Fellowship with Christian ladies. Study/explanation of Scripture. Music.

Fire pit. Devotions by the lake. Meeting new friends in the smaller group setting.

The flowers at the meal tables with conversation starters. The hands-on exercises (flower pots) that enable me to visualize Micah's testimony.

Skits from the tables. Everything was great!

Worship. Bible study/application. Morning devotion before breakfast.

Close to God area.

I felt so loved!
TWO THINGS I LEARNED:
B

e more educated of the Bible, its contents. Not just reading but devouring the words and meanings of God's Word. Devotions.

A need in my life to have deeper study times. A need to be still and listen for God's voice.

Move past my brokenness. Steps of salvation.

I can be bold even in my fear because He picks up where I'm weak.

To slow down and take time to read my Bible and listen to God. How to (or ways to) pray for other women and their hurts.

Learned repentance – but in such a beautiful and sweet way.

They argued on the Road to Emmaus. How to keep the "feelings" after you leave.

People are more generous than I can imagine. Bring a blanket!

Forgiveness,"Ask and you shall receive." Comfort in Scripture.

Luke 24 – I want to learn God's Word as Brother Robbie and bring it to life.

 

It's very tiring to carry around the sins and very refreshing to lay them down.

God doesn't always do things the way I expected, and that's okay because He has a better plan. Love is always the right choice.

I'm not alone. God has freed me from some of my hurts and let me know my son is going to be okay.

I have a choice in how I respond to circumstances and people. Importance of Bible study.
We have a place for you. Sign up now for Whisper Gathering 2020.
Register for Whisper