These free Scripture-based prayer guides can help you learn to pray powerful prayers and to "Pray all the time…" 1 Thessalonians 5:17. They offer suggestions for self-examination and directed action/change as needed. Click on the links, below, to access our free printable PDFs.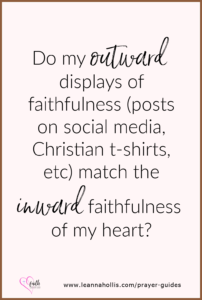 Free Scripture-based Prayer Guides: Old Testament
Deuteronomy 6: 4-9 Learn how to respond to the call to discipleship and love the Lord our God with all our heart, soul, mind, and strength.
New Testament
Mark 14:26-31 (Jesus Denied)  Consider the disciples' response to Jesus' arrest and impending death. How might our responses be similar? How well do we offer grace to those who denied Jesus for a season?
John 12:1-6 (Devoted) This guide leads us to consider four of the people around Jesus. It also guides us to compare their responses to Him with our own.
Romans 12:1-2 (The "Altared" Life) Use this guide to learn more about becoming a living sacrifice. You will also examine your heart for areas in need of change.
This free Scripture-based prayer guide addresses our love for the world, sense of entitlement, and hidden sin. It also addresses the bigger issue of suffering in our broken world: What to Do When God's Heart Breaks
Free (Scripture-based) Topic Prayer Guides:
Scripture tells us all Scripture is useful to correct and train us in righteousness. (2 Timothy 3:16-17) These free introspective Scripture-based prayer guides can help you grow closer to God and live the disciple life.
What Will I Do With Jesus? 
This prayer guide focused on Mark 15:1-20, examines five different responses to Jesus. It helps you answer the question, What will I do with Jesus? To download, click here: WHAT WILL I DO WITH JESUS
Putting Sin to Death
This basic prayer guide focuses on how to get rid of sin. It uses Scripture to explore God's view of sin in comparison to our own. It can help as we strive to break free from the power of sin in our lives. To download, click here (You can also access an associated sermon from the prayer guide.):  PUTTING SIN TO DEATH STUDY
Is Jesus at Home in My Heart?
Use this brief Scripture-based prayer guide to consider how welcome Christ might feel in the home of your heart. What changes might make your heart more inviting to His presence? To download, click here:  IS JESUS AT HOME IN MY HEART STUDY