How to Use Prayer Stations to Facilitate Prayer
Are you or your church interested in growing in the area of prayer? We want to help. Learn how to use prayer stations to facilitate prayer and find sample templates here.
What is a prayer station?
A prayer station is, simply stated, a station set up to facilitate prayer. It can be as simple as a pillow on the floor or carpeted steps at the front of the church or as elaborate as a carved prayer rail with velvet kneeling cushions. The appearance is not the important part of a prayer station. The prayers prayed at the station, however, are critical.
Why use prayer stations?
Jesus demonstrated a lifestyle of prayer. He often slipped away for private time with His Father in prayer. (Luke 5:16) He also taught His disciples to pray at all times and not give up. (Luke 18:1) We access the power of God as well as accomplish some victories only through prayer. (Mark 9:29)
The importance of prayer in the life of a disciple is clear but the "how" is not always as easy. Prayer stations with clear directions are an easy way to help people learn to pray Scripture, look deeper into their own hearts, and take steps to draw closer to our Lord.
Our church uses prayer stations to facilitate our weekly day of prayer. They offer participants some direction for their prayers and allow all the participants to pray in common even when they come at widely varied times.
The stations are set up and available for anyone who wants to pray. The worship center is open for prayer during the workday once a week and, at specific times, during the evening as well. Participants proceed through the stations at their own pace. Depending on availability, we may have people available to pray with participants as needed.
Although we've used a variety of styles, our most common style is to set up six or seven "stations" around the worship center. Each week's stations are designed around a common theme and have varied from the "I AM" statement of Jesus to an expansion of our pastor's most recent sermon.
How to Use Prayer Stations: Set Up
Each station has a visual "center," usually draped fabric with a lit candle (if someone will be in attendance) and two or three laminated direction cards displayed on easels to help center and guide our prayers. We place a chair convenient to the station for those who wish to sit as well as a padded cushion (or carpeted area) for those who wish to kneel.
Direction cards are usually of three types:
Scripture
Introspection (things to consider)
Action (ways to pray, actions to take)
Our stations generally fall into a few broad categories:
Focus Station
Repentance
Worship
Thanksgiving
Prayers for Prodigals and the Lost
Prayers for Ministers and Missionaries
We always include paper, pen, and a place to leave prayer requests at one of the stations. Intercessors pray over the requests and they are turned in to the pastor for follow-up.
How to Use Prayer Stations to Facilitate Prayer: Set-Up Examples
There's a real temptation, likely rooted in pride, to design elegant and beautiful stations. A more elaborate design, however, would easily distract participants from prayer. Anything that takes the focus away from prayer must be avoided.
As you can see from the examples below, most of our stations are simple, easy to set up, and easy to use. They're also easily reproducible. Want to learn more? Feel free to contact us for individualized and personal help to facilitate prayer for your church or small group.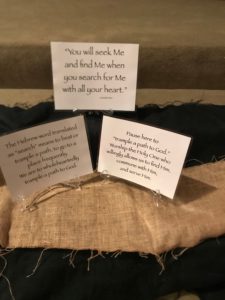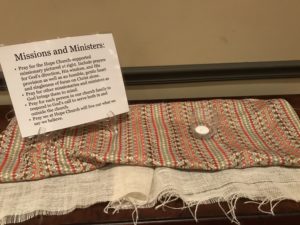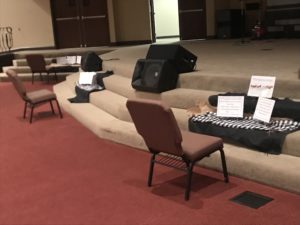 How to Use Prayer Stations: Free Ready-to-Use Downloads
*Stations for Return to School
*Commit to the Disciple Life Stations with accompanying Scripture memory cards
*All information and resources on this page are offered free of charge and with limited permission for personal or church use only. This intellectual property may not be sold, offered for payment of any kind, or altered in any way.