Have you wondered how to have a blessed life or how to have a blessed new year in an ever-changing, stress-filled world? Scripture offers ample guidance in how to have a blessed life, how to have a blessed year, and choose blessings through our actions and lifestyle.

1. Obedience Always Brings Blessings: 
"It shall come about, if you listen obediently to my commandments which I am commanding you today, to love the Lord your God and to serve Him with all your heart and all your soul, that He will give the rain for your land in its season, the early and late rain, that you may gather in your grain and your new wine and your oil. He will give grass in your fields for your cattle, and you will eat and be satisfied. Deuteronomy 11:13-15
In our society, the one who works hard and does the most gets the greatest blessings, or so we assume. According to Scripture, however, it's the one who loves and obeys God the most who receives the greatest blessing, not the one who does the most or works the longest hours.
Let's take a closer look at the blessings promised in the verses above. Israel was an agrarian society. They grew the fruits and vegetables they ate and raised the livestock from which their dairy and meat came. Sufficient food (produce, dairy, and meat) depended on the early and late rains to grow and develop. Those life-giving rains would only come IF the people listened obediently (i.e. listened with the intent to obey), loved the Lord, and served Him with all their heart and all their soul.
Obedience brings blessing. Disobedience does not.
Ample rain was only the beginning of the blessing God had in store for those who loved and obeyed Him. Crops and livestock would not only survive but thrive. Harvests would be ample. The people would be satisfied with more than they needed.
Imagine being satisfied with exactly what you have…no craving for more, better, different, newer. Satisfied. Content. Sounds good, right?
Jesus confirmed the connection between obedience and blessing in his famous Sermon on the Mount. We choose blessings when we live the way God wants us to live.
"For this reason I say to you, do not be anxious for your life, as to what you shall eat, or what you shall drink; nor for your body, as to what you shall put on. Is not life more than food, and the body than clothing?… Your heavenly Father knows that you need all these things. But seek first His kingdom and His righteousness, and all the things shall be added to you." Matthew 6:25, 32, 33
Again, if we focus on God's kingdom and His righteousness (being right in God's eyes), He will provide the food, drink, clothes, and everything else we need. How do we become right in God's eyes? Know what He wants and do what He says. Listen obediently. Love and serve Him. It's that simple. It's that hard.
The path to blessing is clear. Love and obey God in every area.

2. Right Words Matter:
"To sum up, all of you be harmonious, sympathetic, brotherly, kindhearted, and humble in spirit; not returning evil for evil or insult for insult, but giving a blessing instead; for you were called for the very purpose that you might inherit a blessing. For, "The one who desires life, to love and see good days, must keep his tongue from evil and his lips from speaking deceit. He must turn away from evil and do good; He must seek peace and pursue it. For the eyes of the Lord are toward the righteous, and His ears attend to their prayer, but the face of the Lord is against those who do evil." 1 Peter 3:8-12
Speaking your mind may be celebrated in our society but in the Kingdom of God, restraint and care with words are both expected and required. Give a blessing to the person who insults you. Keep your tongue (words) from evil. Seek peace and pursue it. We can choose blessings with our words if we chose the right wor
James 3:6 describes our tongue as a fire from hell, able to defile our entire life. If you've ever said something and wished you hadn't, you know. If we want the blessing of "right" words, we must shun harsh, hurtful words. Instead, we must choose the right words and use them carefully.
Peter's words (above) suggest we are called to give a blessing of right words so that we can receive blessing in return. What blessing comes from "right" words? "The eyes of the Lord are toward the righteous and His ears attend to their prayer." God pays attention to us and listens to our prayers.
Words matter. When we choose them well, a blessing is sure to follow.
3. The Blessing of Wisdom and Understanding:
How blessed is the man who finds wisdom and the man who gains understanding. For her profit is better than the profit of silver and her gain better than fine gold. She is more precious than jewels; and nothing you desire compares with her. Long life is in her right hand; in her left hand are riches and honor. Her ways are pleasant ways and all her paths are peace. She is a tree of life to those who take hold of her, and happy are all who hold her fast. Proverbs 3:13-18
There's no specific blessing for the person who knows the most facts or has the highest IQ. Instead, the blessing goes to the one who gains both wisdom and understanding. We gain godly wisdom and understanding by studying God's Word in-depth and planting His Word in our hearts. (Bible study and Scripture memory) As a result, we learn to see ourselves, others, and society through the lens of God's perspective.
Blessings accompany wisdom and understanding in the form of long life, honor, peace, and contentment. This passage doesn't promise great riches but the wealth of a life well-lived.
Seeing things as God sees them brings the blessings money can't buy.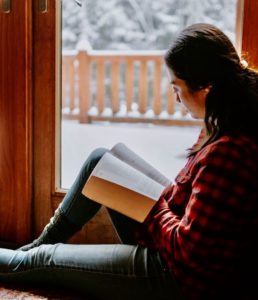 4. The Blessing of Fearing the Lord: 
Her children rise up and bless her; her husband also, and he praises her, saying: "Many daughters have done nobly, but you excel them all." Charm is deceitful and beauty is vain, but a woman who fears the Lord, she shall be praised. Proverbs 31:28-30
The fear of the Lord referenced in the above verses is not that of terror or fright but deep awe and respect which impact every area of our lives. The woman described in Proverbs 31 cares for every area of her family's life and chooses blessings as she does. It's not a drudgery but a joy. She does her work as if she is doing it for the Lord—because she is.
What's the blessing for caring for our families based on our respect and awe of the Lord? Both her husband and children bless her, praise her, and give her public recognition for her tender care.
Our love for God, manifested by how we care for our husbands and children, will one day bring a reward of blessings and praise.
5. The Returns of Generosity:
He who is generous will be blessed… Proverbs 22:9
One who is gracious to a poor man lends to the Lord, and He will repay him for his good deed. Proverbs 19:17
Now this I say, he who sows sparingly will also reap sparingly, and he who sows bountifully will also reap bountifully. 2 Corinthians 9:6
Generous giving brings generous blessings. Scripture doesn't specify the exact type of blessing, but it gives us a good hint. God views our gracious gift to the poor as a loan to Him and we can depend on Him to repay. We can expect a blessing in response to the generosity of our giving. This does not mean the rich man who gives a big gift (which represents only a small percentage of his wealth) will receive a greater blessing than the person who gives a small gift (but a larger percentage of his resources). Jesus Himself commended the widow for the mite she gave. When giving generously, no matter the amount, we can rely on God to provide and repay in some way.
Does this mean giving is a kind of upside-down investment where a little down brings big monetary return? Absolutely not. In the Kingdom of God, blessings like peace, love, joy are highly valued—often far more than the riches the world holds dear such as a large investment portfolio or a big bank account.
 5 stepping stones to choosing blessings and a blessed life:
Obey God's Word and His commands.
Choose words wisely.
Seek God's wisdom and understanding.
Fear (honor and respect) the Lord.
Give generously.
Although this list isn't exhaustive, it's a good start. Want to have the blessings of God in the coming year? Do things His way and He'll do all He's promised–and more.
Get the stepping stones (above) and the prayer for blessings as a free printable!
How to pray for God's blessings on your life and on the new year:
Dear God,
I thank you that you hear my prayers and respond to me when I call out to you. I want the blessing of knowing and following you. Forgive my sin and the times I've failed you. Help me to trust in You and Your Son to save me. Give me the faith to seek You, obey You, and give generously as You direct in Your Word. Give me the willingness to honor and respect you. Remind me to choose my words wisely before I speak. I want the blessing of knowing you and the life you designed for me. Teach me to have a blessed life from knowing You.
Help me to choose Your ways in every decision I face.
In Jesus' powerful name,
Amen
Thanks for stopping by! You might also like to read:
When Blessings Are Ours But We Refuse to Accept Them
Choosing Contentment and a Grateful Heart
How to Memorize Scripture: Three Easy Steps
Why Does Scripture Memorization Matter?
Discipleship Resources: Tools for Living the Christian Life
*Note: This post may contain affiliate links. If you click on a link, we may earn a small commission, at no extra cost to you. 
If you'd like exclusive stories and devotionals, sign up for our twice-monthly email. Click here: Newsletter Sign up
Looking for a digital Bible study to learn how to choose blessings and live a blessed life? Check out: