If you wonder what does freedom in Christ mean, how to live in the freedom of Christ, or how to be set free from sin, we can help you find answers here.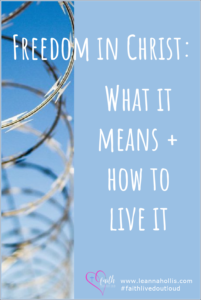 The images of those liberated from WWII concentrations camps came to mind as we read Romans 6 recently.
"But thanks be to God that though you were slaves of sin, you became obedient from the heart to that form of teaching to which you were committed, and having been freed from sin, you became slaves of righteousness." Romans 6:17,18 nasb
The word translated as "freed" literally means "liberated" and indicates the kind of freedom granted to those enslaved in concentration camps. Trapped and incapable of escape, they faced certain torment and death. When the liberating army arrived, they were set free.
A decade or more before most of us were born, Soviet soldiers marched toward Auschwitz, a Nazi German concentration camp in which more than a million people were imprisoned. The Nazis forced most of the prisoners to march to another facility before the liberators arrived, not because they cared about the safety of their prisoners but because they wanted to continue their torment. They shot thousands of those who couldn't keep up and left their bodies where they fell. By the time the Soviets arrived, only 7,000 of the prisoners remained in the camp, most of whom were so infirm the Soviets didn't bother to evacuate them.
The photos taken on liberation day revealed the bodies of the dead heaped in piles and mass graves. The survivors' bodies were starved and skeletal, their eyes haunted. Those former prisoners knew they'd been trapped in a kind of hell from which there was virtually no escape. The unexpected arrival of their liberators set them free.
Once they were set free, they wanted to stay free.
Would those tormented people ever choose to return to the bondage of Auschwitz and their Nazi tormentors? Of course not.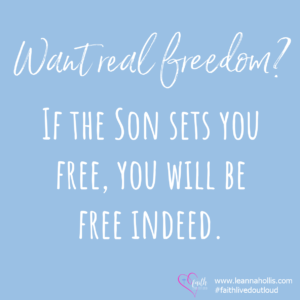 We, too, were hopeless prisoners before Christ. Completely enslaved to sin, our future was certain eternal death and torment but Jesus came to set us free. What does freedom in Christ mean? Jesus invaded our prison, shattered the strong bonds with which we were held, and liberated us from our cruel master. We have been set free from the power of sin in our lives.
Why, then, do we live as those who are still enslaved?
No Nazi prisoner willingly returned to the torment of a concentration camp. They never returned to hunger, fear, pain, forced labor, or physical and sexual abuse because they had a choice.
Why don't we live as if we're free?
For what reason do we continue in the sin that binds us? Why would we, who have been freed by Christ, return to the enemy's hold on our hearts and lives? Two possibilities come to mind. Either we don't understand our abuser or we don't know the gracious kindness and love of our Liberator yet.
Jesus described our enemy well when He said, "The thief's purpose is to steal, kill, and destroy…" Just as those in Nazi concentration camps learned, their enemy's objective was to steal that which was most valuable, both in terms of possessions and human dignity, kill their sense of self and identity, and destroy their lives and body.
The enemy of our soul works with the same intensity and purpose. His desire is to steal our freedom and enslave us to the things of this world, keep us from Jesus, kill our witness and destroy our relationships. Temptation comes wrapped in an attractive package and promises everything from pleasure, temporary escape and pain relief to freedom, prestige, power, and love.
It's all a lie. Drugs and alcohol may give temporary relief but they compound life's problems in too many ways to list and can never give lasting peace. Materialism and entitlement may give us a beautiful house but they don't turn a mansion into a home and fill it with love.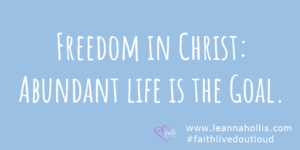 What does Freedom in Christ Mean?
Jesus spoke powerful words that left no doubt about his mission for change in the lives of His followers. "I have come that they might have life and that they might have it more abundantly." The NLT translates the abundant life as "a rich and satisfying life." John 10:10 nlt
Ponder this truth for a moment:
Jesus didn't come to enslave us. He came to set us free from sin so we could live a rich and satisfying, abundant, joy-and-peace-filled life. 
Do we live abundantly?
When we come to Christ, we turn from our former lives and leave that which enslaved us behind, not continue to dabble in it. To follow Jesus is not a 180-degree turn-and-stop journey, but a lifetime of discipleship. We follow Him by studying His Word and obeying His directions. We cannot experience the abundant life if we merely turn and stop.
The Christian life is a keep-moving, ever-growing, constantly-advancing adventure. "Stagnant" and "enslaved to sin" are not parts of the process. 
Which do we want? Freedom or bondage. The abundance of peace, joy, love, and the other fruit of the spirit reveal the choice we've made. Body of Christ, what do our lives reveal to the world? What does freedom of Christ mean in our daily lives? Do others see the freedom of Christ in us or do we still reveal the sin that so easily entangles us?
Freedom is ours because of Jesus. We can live free, and we should.
How to Be Set Free From Sin
If we've made the 180-degree turn from sin to the freedom in Christ He offers, there should be no reunions with our old sinful life. Freedom in Christ means we continue the path of discipleship (Bible study, obedience, faith) so we can experience abundant life. A perishing world looks to us to show the way.
Study the Bible and do what it says. It's that simple. When we do, we'll find the life Jesus intended and show the world the freedom He died to give.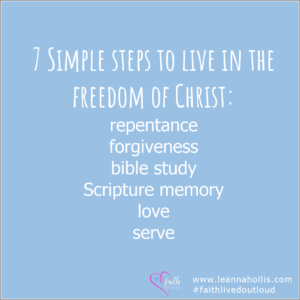 To learn how to be set free from sin, take a look at these simple steps:
How to Be Set Free From Sin: Seven Simple Steps
Repentance: To repent means to admit our sin, decide to stop doing the sin, and stop doing it. Good intentions are not enough.
Forgiveness: We confess our sin and ask Jesus to forgive us. However, if we want to be forgiven, we must be willing to forgive others. (

Matthew 6:14-15

) We both seek and give forgiveness.
Bible Study: Disciples of Jesus may begin with a verse a day but they steadily make their way to in-depth Bible study so they understand the richness of Scripture and the beauty of Jesus.

 

Ignorance of Scripture is not an acceptable excuse for failure to obey.
Scripture memory: We hide Scripture in our hearts so we won't sin. (

Psalm 119:10

) Memorizes Scripture serves as a guard and a reminder when we need it.
Love: Jesus condensed all the law and the prophets into two simple commands. Love God with all of yourself and love your neighbor as yourself. (

Luke 10:27

)
Serve: Jesus did not come to be served but to serve. (

Matthew 20:28

) To be like Jesus, we must serve as He served—freely, with love and compassion. Watch for a need then meet it in the name of Jesus. You'll soon find more ways to serve and love.
Community: No community of like-minded believers will ever be perfect, but they can serve a perfect Savior together, encourage and help one another, and demonstrate the love of Jesus to a perishing world. The church is the bride of Christ and our love for and participation in the church are not optional.
Freedom from sin is possible but we must make a choice. Do we want to be free? Make a choice now and get started.
Need a bit of help in understanding what freedom in Christ means for your life?
Comment or message us to let us know how we can help you on your journey toward freedom.
 You might also enjoy reading:
The Benefits of Repentance + Why Repentance Matters
The Capture Bag: When Letting Go of Hurt and Anger is Way Past Due
The Importance of Mucking Out the Stalls
Choosing Suffering Rags Instead of Healing
Is it Possible to Walk the Blameless Path?
When We're Finally Sick of Our Own Sin and Decide to Let it Go
When you share this post on social media and pin the images to Pinterest, it extends our digital reach in amazing ways. Please take a moment to help spread the word. Thank you in advance.