I've read through the book of Isaiah every December for nearly three decades. I revel in the evidence of God's love in the prophecy, especially the Messianic verses.
Last year, a passage in Isaiah struck me with surprising force. It began with a description of "the day when the Lord gives you rest from your pain and turmoil and harsh service…" (Isaiah 14:3) I read those words again today, recalled the insane hours I've worked this past year, and thought, "Bring it on, Lord."
When I reached Isaiah 14:9-11, the description of hell surprised me again. Those already in hell are excited to meet new arrivals. The spirits of the dead are aroused to speak words of meanness and taunts to them. It's not much of a welcome.
To make matters worse, there's no real rest. Maggots are spread out as a bed beneath you and worms crawl over you as a kind of hellish bed-covering. Imagine that for a moment. Maggot-mattress. Worm-blanket. Yeah. Gross. Eternal flames are bad enough, but who wants to spend eternity on a maggot-mattress?
I know this doesn't seem much like a Christmas devotional yet, but we'll get there, so please read on.
An unpleasant truth
The unpleasant truth is we all deserve hell. All have sinned. (Romans 3:23) The wages of sin is death. (Romans 6:23) Mankind proved completely incapable of living according to the rules our Creator set for us. Our sin debt was so gigantic, no amount of animal sacrifice was sufficient to completely cover the price. A simple apology didn't cut it.
Something had to be done, and only God could do it. He chose to pay the sin-price Himself. That's why Jesus came. He accepted a bed of hay so we could avoid the maggot-mattress (and all the other horrors of hell.)
Selah. Pause and ponder.
We've all done wrong things, we all sin, and we all deserve hell. It's a place of eternal torment. The fire would be torment enough for me, but the worms and maggots take it to another level of horrible.
 We'd all end up there, too, if not for the love and grace of God. According to Romans 5:8, God showed His love to us by allowing Christ to come to earth as a little baby, live a sinless life, and die on the cross in our place. He conquered sin and death when He rose from the grave.
The point of Christmas is Jesus. 
At Christmas, it's easy to focus on decorations, gifts, and parties, but they aren't the point. The point of Christmas is Jesus. The Holy Baby was born to show us God's love in the flesh, a love so fierce that, even though we deserved the worst He could give, God gave us His best, His Son.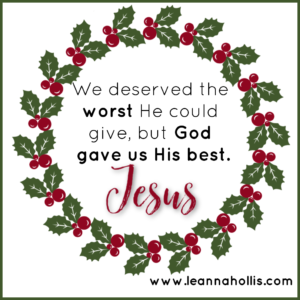 Our course, sin is so entrenched in us that we couldn't see His good example and follow it to a sinless life. We're hopeless on our own. It's only through Christ's goodness, sacrifice, and resurrected redemption that we're able to escape the consequences of our choices.
 Only Jesus sets us free from ourselves and our sinfulness. Only He can give us peace with God and an eternity with Him, but each one of us must accept His gift for ourselves. Believe and follow. Trust and obey. It's that simple. It's that hard.
The gift of God's love
The gift of Jesus is more love than I can fully comprehend, but this Christmas I intend to embrace it.
Today, pause long enough to ponder our great sinfulness and the massive, hell-shattering love that sets us free. Don't stop at pondering. Instead, abandon ourselves to the only One who loves us enough to save us. 
If that isn't love I don't know what is. 
"But God demonstrates His love for us in that while we were still sinners Christ died for us." Romans 5:8 esv
Keep reading for more…
Leannahollis.com is a participant in the Amazon Services LLC Associates Program, an affiliate advertising program designed to provide a means for sites to earn advertising fees by advertising and linking to amazon.com. This blog post contains affiliate links, which means if you click on the link to make a purchase, I may make a small amount of money (usually a few cents) from your purchase. It will not increase the price you pay in any way.
Thanks for sharing your time with me today! I've glad you stopped by. If you enjoyed this content, follow me on Facebook, Twitter or Pinterest or sign up for the twice-monthly mailing list (below) to be notified about my future blog posts. Before you leave, would you mind taking a moment to pin to Pinterest and share on social media? It helps extend my digital reach in ways I can't do myself. Thanks again! See you soon.
Want to read more? Here are links to a few other posts, including the advent series:
True Beauty Begins When Pride Ends
Christmas' Best Gift: Beautiful Redemption
If you're looking  for an Advent devotional guide, consider this one:
It's available in Kindle format ($0.99) and paperback ($6.00)
Here's an in-depth, life-changing digital Bible study to help you start the new year:
You can also send either book as a gift through Amazon.