Have you wondered if you should love your neighbor if you don't like him? Maybe you want to know how to love your neighbor if you don't like him or how to love your neighbor as you love yourself. I get it. Keep reading to learn how I learned to love the ones I considered unlovely.
I found a treasure one morning in a place I least expected. It was more like a jeweled dagger than a pot of gold, however, because the word went straight to my heart like a blade. The story of Ananias and Saul was the focus of my daily reading for the last few days, and I thought I'd mined it pretty well. On this particular morning, however, I read the story again and was struck to the core by one simple word. (Acts 9:17)
Brother.
This word literally means united as a brother of the same mother or father or united by a common cause. In this instance, it means both. Because God claimed Saul as his own, Ananias accepted kinship with Saul even though he appropriately feared this well-known terrorist who, a few days earlier, had intended to imprison him.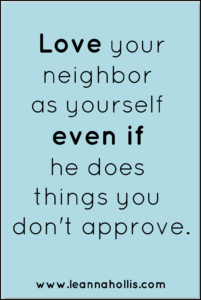 How to love your neighbor if you don't like him: Look past the past
Ananias didn't disregard Saul's past. It terrified him and he voiced his concerns in prayer. "Lord," he said, "this man came here to arrest us all." His valid complaint did not stop him from obeying Jesus. Love your neighbor as you love yourself isn't a touching suggestion. It's a command. (Matthew 22:39) In the story of Ananias and Saul, we see it lived out in despite-his-fear boldness.
Saul's days as a terrorist were over, but Ananias had no way to know about his transformation when he met Saul and called him brother. All he knew was God chose Saul and intended to use him in a mighty way. Ananias stepped over Saul's past and their differences to embrace this man God loved, and so should we.
Ananias understood how to love his neighbor as himself, even when he was afraid of him and didn't like anything he knew about him. He loved anyway. He accepted anyway. Despite the past.
Leave change to God.
It wasn't Ananias' job to change Saul, and it would have been futile to attempt it. Only God can change a heart and transform a life. Ananias' job was to pray and lay hands on Saul in person, and that's exactly what he did.
The first word Ananias spoke demonstrated the decision he'd made. It was a "nevertheless" kind of word that said, to Judas, Saul, and to God that he had chosen to see Saul through the filter of Christ's love. Brother.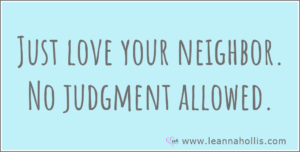 Should you love your neighbor if you don't like him? Look over the sin to see the sinner.
My initial impression of people radically different from me is not always one of having positive intent or being beloved by God. It should be, and I wish it was. Sometimes, though, I see people through the filter of their past. The drug addict or alcoholic who's been through rehab numerous times doesn't always look like my brother and sister at first glance. I don't always see how God plans to use them from the beginning. It's the same for the serial… whatever the sin.
All too often, I see the sin before I see the sinner, just like Ananias did, but I don't always make it to "beloved brother" or "precious sister" as quickly. This morning, I've repented of that sin, for I should be willing to love the one Christ loves as my brother or sister from the start.
I was not required to prove myself in order to be redeemed, and no one else is, either.
Love your neighbor—even if he relapses.
Ananias went to Saul and called him brother without a promise of change on Saul's part. He had no way of knowing Saul would become Paul, nor about the missionary journeys he would make. Would a potentially murderous relapse on Saul's part have changed Ananias' responsibility for obedience? No. Ananias' imperative to obey had nothing to do with Saul's.  Nor does mine or yours.
Even "tough love" begins with love. The difference between loving the sinner and enabling the sin is distinct and important to recognize, but that's a topic for another day.
Should you love your neighbor as yourself? Love isn't optional.
The greatest commandment is to love God, the second is to love others. Should you love your neighbor if you don't like him? Absolutely. Dislike is not an excuse for lack of love. The new commandment Christ gave, to love others as He loved us, reinforces one truth. (John 13:34) We must view everyone through the lens of love. Whether we like them or not.
If we are obedient to the royal law of our King, the law of love, we live with everything done in love, and our lives filled, focused on, and radiating love. How radical is that?
For today, let's take a deep look at our own hearts. Are they filled with love for all, even those who are different? If not, why not and what do we plan to do about it?
If we don't love our neighbor as ourselves, much less like him, we have a problem. We lack love, and change is required, so let's get started.
How to love your neighbor as you love yourself:
Make loving others a priority.
Look past the past.
Leave needed changes to God.
Look over the sin to see the sinner.
Admit God loves your neighbor just as He loves you. 
Find one positive attribute and remind yourself of it often.
Extend the same grace, mercy, and kindness God has shown you.
"Greater love hath no man than this, that he lay down his life for his friend." John 15:13
If you'd like a daily (weekday) dose of encouragement and inspiration, check out Today's Encouragement for devotionals and prayer challenges.
Want to read a little more? Here are a few articles you might like…
When the Hand of God Restored My Hope 
When I Traded My Happy Heart for Grumbling and How I Got it Back
Worship at the Judas Rock: When We Identify With the Betrayer
Lent: Learning to Love the Discipline