If you've experienced loss or the death of a friend or loved one, you've probably wondered how to deal with grief or how to draw close to God in grief. You may have Google'd "how to deal with grief in a healthy way." Keep reading to learn how to deal with grief in a godly way and how to draw near to God in times of sorrow.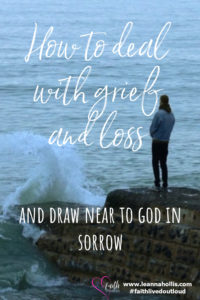 How to deal with grief in a healthy way when it seems like too much
I had a series of losses over several years. Deaths of beloved friends and family. A sight-threatening eye infection that required months of treatment to control. A function-threatening hand injury that required emergency surgery. I didn't finish grieving one blow before the next one landed. 
Then COVID hit. My team and I quickly found ourselves immersed in community outreach and food distribution in hard-hit, low-income areas. Less than a month after the pandemic began, I awakened with a sore throat, headache, and a slightly increased temperature. The symptoms were mild, for the moment, but I knew I had COVID.
As a board-certified internal medicine physician, I knew how to treat a wide variety of medical problems but this…nothing prepared me for this. Hospitalized patients were dying at a quick pace, so I stayed home and treated myself. Many times I thought I'd die. Sometimes I wished I would die but, in the midst of it all, there were times when God felt as near as my next breath.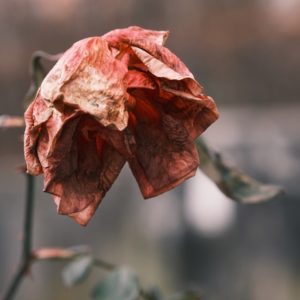 The tight fist of grief, loss, and anger
One afternoon, still recovering, I sat on the back patio and reveled in the spring sunshine as I counted the number of friends and acquaintances who had died in the last few weeks. Tears trickled down my cheeks. Too many were gone. A gentle breeze stirred the already overgrown rose bush, buds barely visible, as the scent of the rosemary hedge wafted through the air. The day was beautiful but a tight fist of grief, loss, and anger diminished my joy in the beauty around me. Laptop before me on the patio table, I felt the kiss of springtime sunshine and heard the serenade of songbirds. They were almost loud enough to drown out the click of my fingers on the keyboard but not the pressing need of my heart–how to deal with grief in a godly manner and how to draw close to God in grief. 
My emotions were directed at a target as intangible as the air through which it was transmitted and all the havoc it wrought.  Deaths. Loss. Economic uncertainty. Isolation. Loneliness. One question echoed in my head: Not just how to deal with this grief but how to deal with grief in a healthy way?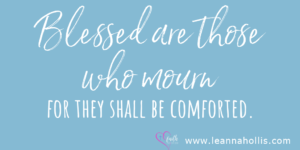 How to deal with grief in  a healthy way: The Blessing of Mourning
When I chose the Sermon on the Mount for my "passage of the year" a few months earlier, I didn't expect to land on the fourth verse with a resounding whack and struggle to find my way past, but I did.
Blessed are they that mourn, for they shall be comforted. Matthew 5:4
There's quite a difference between "comforted" and "comfortable," isn't there? We prefer the latter but are only promised the former.
Like you, I didn't expect a novel coronavirus to invade my comfortable life, but it did. As the number of cases and deaths mounted on the other side of the world, the novel coronavirus was renamed. COVID-19 became our mutual, relentless worldwide enemy. My first reaction was skepticism. I've lived through reports of many deadly viruses. None of them seriously threatened my nation. My state. My little section of the world. But this one did.
Fear gripped me long before COVID-19 hit Italy with a vengeance. This virus was much different. It brought destruction indiscriminately and it was headed our way.
Unexpected Comfort
When COVID-19 cases overwhelmed Italy's healthcare system, doctors died, and bodies piled up, my fear and desperation hit a peak. I wrote impassioned posts on social media. If they did any good, I couldn't tell it.
Since my posts didn't help, I thought, maybe words delivered in a different format and setting would. Thus, I started morning Zoom sessions called Whisper Connection, a 30-minute online gathering designed to build community and offer encouragement and connection in a time of unprecedented isolation. (After two years together, this is now a deeply connected group and no longer open to new members.)
Our first session focused on my personal stuck-place, Matthew 5:4. Blessed are they that mourn. I recognized a deep well of grief in my own soul. As it turned out, I was not the only one. We needed help figuring out both how to deal with our grief in a healthy way and how to draw close to God in our sorrow.
Comfort begins with recognition of our grief
We were entrenched in dense worldwide grief and we still are.
In college, admittedly a few decades ago, I studied Kubler-Ross' landmark work. She described five stages of grief. Although her work has never been verified by peer-reviewed data, the emotions she described are valid and found in almost all grief: Denial. Anger. Bargaining. Depression. Acceptance. (1)
I saw clear evidence of my own shock, denial, anger, and bargaining in my posts on social media and in the turmoil in my heart. Unfortunately, my anger was mostly directed at the nameless masses who were (or so I thought) making it worse by their refusal to distance and isolate themselves. They definitely made my efforts to feed hungry children harder because of the hoarding. Grace, not more anger, was the more appropriate response but I found my outward-bound supply of grace sadly lacking. Just as we returned to post-COVID normal, the war in Ukraine began. More sorrow. More grief.
It took me a while to see the actions against which I railed in the early days of the pandemic were merely symptoms of our global grief and fear.
How did we find our way through our collective sorrow and draw close to God in that grief?  How did we learn to deal with our grief going forward? The very place at which I was stuck held the answer. "Blessed are they that mourn, for they shall be comforted."
A Mountain of Grief
The word translated as "mourn" is pentheo (2) and can be traced back to a root word meaning "suffering." (3) The emotion we felt in response to the deadly virus and the social distancing and isolation to which we were consigned was grief. We mourned our losses—of our way of life, our freedom, independence, the certainty of health, livelihood, and, in all too many cases, the ability to buy basics like bread and toilet paper whenever we want—and it was a very real type of suffering. Added to the universal loss were friends and loved ones who were desperately ill or who perished in part or in whole because of the virus. We had what felt like an insurmountable mountain of grief. The addition of a new war may feel like the proverbial straw that broke the camel's back.
We mourn but we don't feel blessed. 
Jesus, however, said we are blessed in the midst of our mourning because of the promised comfort we can receive. The word translated as "comforted" is parakaleo and can be translated as "to refresh or cheer." (Thayer's) (4) It comes from a root word meaning "to call near, to invite". (5) You may recognize a closely related word for the Holy Spirit, parakletos, meaning advocate or helper. (6)
When we put all this information together, we find a beautiful whole. We are blessed even when we grieve because the Holy Spirit invites us to draw near for refreshment, cheer, and comfort even in our sorrow. Is there any greater comfort? No, indeed.
The emotion associated with grief is both normal and healthy. Allowing ourselves to become "stuck" in our emotional response to loss is not. Once we recognize our struggle, we must take action to deal with grief. Most of us can make a good start by taking the steps that help us draw close to God in grief.
How to Draw Closer to God in grief:
Repent of unconfessed sin to enjoy seasons of refreshment (Acts 3:19)
Read and study Scripture to find light in the darkness and direction in times of uncertainty. (Psalm 119:105
Shared burdens are lightened and we are strengthened, even when we share digitally rather than in person. (Ecclesiastes 4:9-12)
Pray for one another. (James 5:16)
Give thanks, even when it's hard. (Psalm 50:14, 1 Thessalonians 5:16-18)
Even when grief is rampant, we can move from our shock, denial, and anger all the way through to acceptance and healing. We cannot do it, however, if we don't make a start.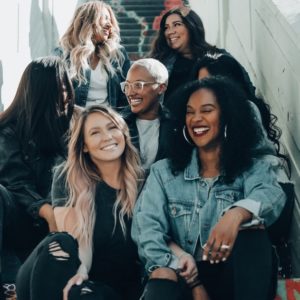 To my utter surprise, the very group I started to help others was the key to unlocking my own grief and anger and learning how to deal with grief in a healthy way. Full parking lots no longer seem filled with the cars of enemies. Instead, every car represented people who also struggled with the grief, fear, and uncertainty I experienced. The difference was the place to which we turned for comfort. I don't presume to know where, or if, the crowds found comfort, but my consolation was found in my faith relationship with Jesus.
The future doesn't depend on the availability of supplies…
Friends, our future is not dependent upon stores of bread, toilet paper, milk, or any other item we might hoard. It wasn't dependent upon the end of our shelter-at-home season nor upon the political prowess of public officials. It doesn't depend on the end of the war in Ukraine or what government leaders do or do not do. Our hope and future are in Christ alone. He stands ready to comfort us in our time of need. We need only turn to Him.
Those are true words but what does it mean to turn to Him? What actions do we take?
How to Turn to God in Times of Crisis and Deal with Grief in a healthy way:
Stop looking to the media for truth or direction. (John 14:6)
Begin each day with Scripture and read until you have a nugget of truth to which you can cling. (Psalm 119:105)
Memorize Scripture. Start with one verse. Write it out. Repeat it aloud. Pray it through. Seek to incorporate it in your daily life. (Psalm 119:11)
Pray without ceasing. Pray for yourself, your family, political leaders, and those serving in front-line care for the sick and those in need. (1 Thessalonians 5:17)
Now is the time to pray big and wait with expectation for God to move. (Ephesians 3:20)
Take every thought captive. Pray for strength and replace thoughts of fear or worry with the truth you know. (2 Corinthians 10:5)
Make a difference where you can. Whether you can write notes of encouragement to senior adults living alone, take a meal to a grieving friend, or pray for those who are suffering you can reach out to others who are also struggling. (Matthew 5:16)
Remember God holds the future and He has good plans for those who love Him. He will go with us every step of the way. (Jeremiah 29:11, Romans 15:13)
Our world experienced (and, in some ways, continues to experience) a shared challenge. We often called it unprecedented at the start but it wasn't. Infectious diseases caused pandemics in the past and will again. This was, of course, our own personal crisis but the same faith in God and truth which brought people through the plague and the Spanish Flu of 1918 will bring us through, as well.
How will we deal with grief in a healthy way? We will get through this the way we've done so many things before. Clinging to Jesus and to each other.
Photo by Jasmin Sessler on Unsplash
Endnotes:
1. Kubler-Ross, Elisabeth. On Death and Dying. (New York: The MacMillan Company, 1969) 38-137.
2. "G3996 – pentheo – Strong's Greek Lexicon (NASB)" – Blue Letter Bible. Accessed 7 Apr. 2020. http://www.blueletterbible.org//lang/lexicon/lexicon.cfm?Strongs=G3996&t=NASB
3. "G3958 – pascho – Strong's Greek Lexicon (NASB)." Blue Letter Bible. Accessed 7 Apr. 2020. https://www.blueletterbible.org//lang/lexicon/lexicon.cfm?Strongs=G3958&t=NASB
4. "G3878 – parakaleo – Strong's Greek Lexicon (NASB)." Blue Letter Bible. Accessed 7 Apr. 2020. https://www.blueletterbible.org//lang/lexicon/lexicon.cfm?Strongs=G3878&t=NASB
5. "G2564 – kaleo – Strong's Greek Lexicon (NASB)" Blue Letter Bible. Accessed 7 Apr. 2020. https://www.blueletterbible.org//lang/lexicon/lexicon.cfm?Strongs=G2564&t=NASB
6."G3875 – parakletos – Strong's Greek Lexicon (NASB)" Blue Letter Bible. Accessed 7 Apr. 2020. https://www.blueletterbible.org//lang/lexicon/lexicon.cfm?Strongs=G3875&t=NASB
Thanks for stopping by and sharing your time with me today! I've glad you stopped by. If you enjoyed this content, follow me on Facebook, Twitter or Pinterest, sign up for the twice-monthly mailing list (below) to be notified about my future blog posts, or click here to get a 5-day free Bible study and the twice-monthly newsletter.
Before you leave, would you mind taking a moment to pin to Pinterest and share on social media? It helps extend my digital reach in ways I can't do myself. Thanks again! See you soon.
Want to read more?
Sign up for free not-quite-daily email Faith Lived Out Loud devotionals and receive a dose of inspiration and encouragement in your inbox. Sign up here: Faith Lived Out Loud devotionals
Here are links to a few other posts you might enjoy:
Life After COVID-19: Choosing Change Now
How to Trust God in Hard Times
Will We Make Room for God in Our Lives?
Contentment Regardless of Circumstances
Here's an in-depth, life-changing digital Bible study to help you grow in your Christian faith:
(This is an Amazon affiliate link, which means I might make a few cents from your purchase but it will not change the price you pay)
You've helped us reach around the world through your likes, shares, and pins. Thank you! Please keep up the great work. It makes a huge difference.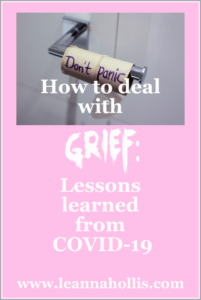 e