How to Trust God
I wanted a happy, holly-jolly Christmas devotional for my annual Advent reading of Isaiah. Instead, I worked my way through fifteen chapters of woes and oracles that left me reeling. I wondered how Isaiah stood the siege of promised destruction, discipline, and grief. Enough "in that day" promises scattered throughout kept me reading, but persistence was hard.
I needed a promise to hang onto, but happy promises were in short supply. Hope finally arrived in Isaiah Chapter 25. After fifteen chapters filled with God's promises of punishment, Isaiah responded with an outpouring of praise, and for a moment I wondered why. "I will exalt Thee, I will give thanks to Thy name…" he wrote. (Isaiah 25:1) I didn't feel much like praise, but Isaiah understood something I'd temporarily forgotten.
(Leanna paraphrase coming up:)
"I praise and thank You God because You do what you say You'll do. You tear down our places of pride. They will never be rebuilt again, and that's a good thing. After all Your work of discipline is done, You don't reject us. Instead, You give us a sweet relationship."
After the discipline of God…
Consider this truth for a moment: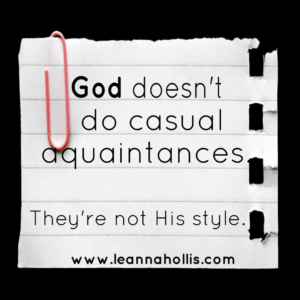 Relationship waits on the other side of discipline.
God does not offer a casual acquaintance. He wants a deep, meaningful love relationship in which His people revere and glorify Him. When the places of arrogance and idolatry are removed from our lives and we finally decide to follow Him with abandon, we'll see God as He truly is.
A defense for the helpless and needy
Refuge from the storm
Shade from the heat
Subduer of enemies
Silencer of accusers
One day, we won't turn to the world for answers in our times of distress. We'll understand God is our defense and stronghold. He is the One who stands ready to help.
I read those verses this morning and hope soared. Despite all the good, beautiful, and excellent in my life, there are still a few areas in which I feel helpless and in need, places in my life that feel like a storm's brewing. Maybe you have a few of those places, too. Perhaps you have more than a few. Life's like that.
Start with surrender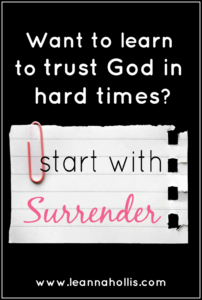 Yesterday, I knelt at the altar and did what needed to be done—surrendered my concerns to the Lord and relinquished my plans in order to wait for His.
Surrender is always the agonizing first step in hard waiting, but it's also the step that brings the most peace. It's the I'm-not-in-charge-but-God-is place that lifts the burden of responsibility for a problem too big for us to solve.

Surrender and peace are vital in surviving the woes and oracles of life, but hope makes a long endurance possible.
Hope remembers the character of the God we serve. He is the defense of the weak and needy, even when we are the weak and needy ones.
He is our Father when we are fatherless. (Psalm 68:5)
He loves us at our worst and forgives us no matter what we've done. (1 John 1:9)
In the storms of life, God is our refuge and our strength. (Psalm 46:1)
Jesus is the answer 
No matter what we face today, Jesus is the answer. Our Lord is the way through. Friends, let's surrender our struggles and cling to the One who is our Hope.
Jesus. Only Jesus.
"I am the way, and the truth, and the life; no one comes to the Father but through Me." —Jesus (John 14:6)
Leannahollis.com is a participant in the Amazon Services LLC Associates Program, an affiliate advertising program designed to provide a means for sites to earn advertising fees by advertising and linking to amazon.com. This blog post contains affiliate links, which means if you click on the link to make a purchase, I may make a small amount of money (usually a few cents) from your purchase. It will not increase the price you pay in any way.
Thanks for sharing your time with me today! I've glad you stopped by. If you enjoyed this content, follow me on Facebook, Twitter or Pinterest or sign up for the twice-monthly mailing list (below) to be notified about my future blog posts. Before you leave, would you mind taking a moment to pin to Pinterest and share on social media? It helps extend my digital reach in ways I can't do myself. Thanks again! See you soon.
Want to read more? Here are links to a few other posts, including the advent series:
True Beauty Begins When Pride Ends
Christmas' Best Gift: Beautiful Redemption