Those of us whose lives are insanely busy may wonder how to make room for God in our lives. When schedules are jam-packed, it's often hard to find room for anything else, let alone God, as an early-morning encounter with a stubborn puppy taught me.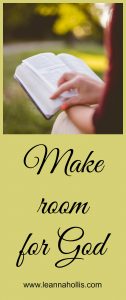 Dawn was still thirty minutes away when I awakened and shuffled downstairs. Neither dog, asleep at the foot of my bed, stirred. I returned to my bedroom with a cup of coffee in one hand and a plate of peanut butter toast in the other. I intended to crawl back into bed and eat breakfast while I read my Bible.
In my absence, Mamie, my still-a-puppy Shih Tzu, awakened and moved into my spot, curled into a little fur-ball, and went back to sleep. When I returned, she looked up with one drowsy eye, lowered her head, and held her position.
"Hey, let me in. That's my place."
Mamie kept her head down and her eyes closed. She didn't move — until she smelled the peanut butter. Her head went up, a tiny button of a nose pointed in my direction, and she sniffed. Eyes brightened. She loves peanut butter and expected I'd give her a pinch of toast.
I stood at the edge of the bed and waited. She didn't move.
"Mamie, move over. I can't get in the bed."
She sat up, grinned, and wiggled all over in anticipation of a bite, but she didn't budge.
Finally, I set down my plate and coffee, lifted Mamie to a better spot, and climbed into bed. "Gotta make room for me before you get a treat," I told her.
How to make room for God and His ways
As I settled against the pillows, I realized an important fact. We need to make room for God, too, and we're often as sluggishly resistant as Mamie. The problem, of course, is we prefer to keep the lives we love and invite God into them, like a welcome guest. We want Him to tag along with our routine.
That's not the way it works.
If we think we can ease God into our way of doing things, we're sadly mistaken. We don't invite God to follow us. He invites us to follow Him. Our activities and priorities may (and probably will) change dramatically in order to go the direction He desires.
Our ways are not His ways
Left to ourselves, our ways are always more like the world than we want to believe. Even if we're "church people" and do many good deeds, our hearts are not naturally inclined toward God.
Jesus summed up the law and prophets in two simple commands: Love the Lord your God with all your heart, mind, soul, and strength. Love your neighbor as you love yourself. Before we started to obey the first two commands, He added another. "Love one another as I have loved you."
Consider the love those three commands require. To make room for God in our lives, anything that hampers our ability to love in such a scandalous, sacrificial way must go. Arrogance and selfishness are incompatible with the outrageous love of God. So are prejudice and greed, covetousness and unforgiveness. How to make room for God? Let go of what's incompatible with the love of God.
If we want the life to which God calls us, we let go to gain.
If we want to make room for God in our lives, we must let go of our old ways in order to gain the new way of love to which God calls us. We let go of our priorities, our desires, our pride, our schedules. Anything that keeps us from following must be replaced with God's ways.
If I had the life I thought I wanted, I'd have a full-time farm worker and all-new equipment to take care of everything on the farm; I'd direct and he'd do the work. My days would be spent having lunch with friends, entertaining, and traveling to fun places. I'd cook beautiful, exotic food, serve it with elegant china, silver, and crystal, take classes and learn new skills, spend lots of time with family, especially my son, and have "doctor money" without the "doctor headaches" of weekend call or malpractice insurance. No jet lag, intelligence/police, tight budgets, or thrift-shop clothing.
God, in His infinite wisdom, didn't give me the life I wanted. He gave me the life I needed. I don't have servants; I am a servant. Mine isn't a life of ease; it's a life of obedience. My life isn't filled with material riches, but it's crowded with spiritual ones.
When our will submits to His…
When I finally understood how to make room for God in my life, I discovered the life He gave was so much better than the life I expected.
The disciples said essentially the same thing. Peter gave up a lucrative fishing business and a nice family with a stone home a few steps away from the synagogue in Capernaum to be a traveling preacher. He was arrested multiple times because of the words he spoke and the miracles he performed. Peter happily traded the life he might've had for the one to which Christ called him and counted it worth it.
"Blessed be the God and Father of our Lord Jesus Christ, who according to His great mercy has caused us to be born again to a living hope through the resurrection of Jesus Christ from the dead, to obtain an inheritance which is imperishable and undefiled and will not fade away, reserved in heaven for you, who are protected by the power of God through faith for a salvation ready to be revealed in the last time." 1 Peter 1:3-5 nasb
Peter thanked God for His mercy in giving a living hope, an imperishable, undefiled, and certain inheritance, and a home in heaven — all through the resurrection of Jesus from the dead. The life in this world and the hope of the next was worth more to him than the life Peter left. It always is.
Will we make room for God in our lives?
Like Mamie, we often want to stay in the place we've chosen rather than move away from our "spot" enough to allow the Master to inhabit "our" space. We can't understand the richness of relationship and blessing we miss until we scoot over enough to give Him room in our hearts.
When we abandon our will for His, however, the fun really begins. Directing a farm worker has given way to hands-on instruction and doing things for myself. It's much more satisfying than waiting for someone to do what I cannot.
I still have lunch with friends, but sometimes it's a salad at the office between emails. Entertainment's usually with-a-purpose now. We still eat on my grandmother's china but we often assemble blessing packs for homeless people, prepare items to help with upcoming spiritual retreats, and study Scripture, as well.
Travel is in the back of the plane and often on the red-eye flight. I still go to interesting places, but I seldom see the tourist attractions. Instead, I meet the people who live there and make lifelong friendships. I don't have "doctor money" anymore, but God stretches what I do have to meet every need.
The life He's given is infinitely better than the life I thought I wanted, and it's worth it.
How will we respond?
When the Good Shepherd leaves the 99 to find the one sheep that's strayed away, He does not continue to follow the sheep. He redirects the lost lamb, returns it to the flock, and expects it to follow Him. Jesus' call to His disciples is always, "follow Me."
The call to follow is one to which we must respond on a daily basis. What will we do this day? Follow or hold our own worldly position?
Today, I choose to follow and make room for God. What about you?
Want to read more?
While you're here, check out these blog posts:
How to Trust God in Hard Times
What Does it Mean to Be Beloved?
What Does it Mean to Be a Disciple of Jesus?
Why We Should Choose Humility and Let Go of Pride
Thanks for sharing your time with us today. Before you go…
Sign up for our

twice-a-month newsletter

to receive exclusive stories, freebies, and more.
Leave a comment and share this post on your social media pages or through email.
Bookmark our website so you can visit us often.
Take a look at

Today's Encouragement

before you go. We add to this every weekday.