Though seldom discussed, repentance, the benefits of repentance, and why repentance matters are seldom mentioned but vital topics for the church today. A recent conversation turned to the weekend women's retreat we'd shared a few days before, the mighty move of God we saw, and the benefits of repentance we experienced. "How'd you get to that point?" my friend wanted to know.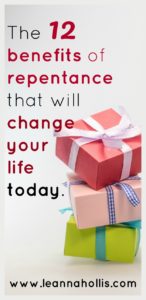 "We repented until we were done. When we had clean hearts, God moved," I explained. There's much more to the story of how we arrived at the point of clean hearts, but we'll save it for another day. Today's topic is the benefits of repentance that accompany the confession of sin.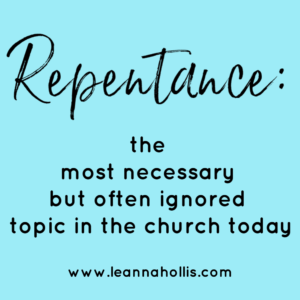 What is Repentance and Why Repentance Matters
Repentance. It's one of the least-talked-about topics in the church today but also the most necessary. It's not enough to admit our sins. The next step, repentance—to turn away from the sin and stop doing it—is critical.
It's the "stop doing it" part that gets us, isn't it? We don't usually sin in ways we dislike. Instead, we enjoy our sin for a season. The pleasure we derive is why we do it and relinquishing something we enjoy isn't all that much fun. Perhaps it would be, though, if we understood why repentance matters and the benefits of repentance.
Why Repentance Matters: The Benefits of Repentance
When I turned to Psalm 103 recently, I found a note in the margin made several years ago. "The Benefits Package." You probably know this psalm. It begins with "Bless the Lord, O my soul" and  continues with "forget none of His benefits." The benefits of repentance make an impressive list and help us understand why repentance matters.
The benefits of Repentance Package:
Pardons all our iniquities

Heals all our diseases

Redeems our life from the pit

Crowns us with lovingkindness

Crowns us with compassion

Satisfies our years with good thing

Renews our youth like an eagle

Performs righteous deeds for us

Performs judgment for us when we are oppressed

Lovingkindness toward us as high as the heavens

Removes our sin as far as the east is from the west

Compassion on those who fear Him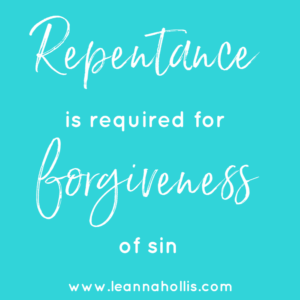 In moments of sin (whether that of a sinful action or a sinful thought), it's easy to forget why repentance matters. When we look at the benefits of repentance package, we want them all and we need them all. The problem, though, is I want the benefits without the trigger for benefit #1. "Pardons all our iniquities." It's obvious David presumes we'll keep short accounts with the Lord. Look closely at this verse, friends.
"Bless the Lord, O my soul, and forget none of His benefits; who pardons all your iniquities…" Psalm 103:2-3
The pardon for sin part is only possible if we do our repentance part.  In a very real sense then, repentance matters because it triggers the 12-fold cascade of benefits the psalmist describes. There is no restriction on the age, sex, race, nationality, denomination, ministry, or past history of the repenter.
Anyone who repents (confesses, turns from sin) and comes to Jesus gets the entire benefits package.
With repentance, we get it all.
We get it all.
Ponder that for a long moment. If we want the benefits of repentance, we can have them if we simply confess and repent.
Read through the list again and ponder what it might mean for your life. Do we want to be satisfied with good things all our lives? Do we want renewed youth? What about the compassion and lovingkindness of God toward us? Of course, we want these blessings. No one in their right mind wants to skip blessings or for God to be against them.
Are you still asking why repentance matters? If we want all the benefits of repentance, we must do one simple thing: Repent. Today, let's decide: Do we want God's blessings or not? If so, let's do what's required. Admit our sin and turn from it. It's that simple. It's that hard, but it's worth it. Why not have it all?
How have you experienced the benefits of repentance?
How have you experienced God's blessing after repentance? Comment below. I'd love to hear from you.
Leannahollis.com is a participant in the Amazon Services LLC Associates Program, an affiliate advertising program designed to provide a means for sites to earn advertising fees by advertising and linking to amazon.com. This blog post contains affiliate links, which means if you click on the link to make a purchase, I may make a small amount of money (usually a few cents) from your purchase. It will not increase the price you pay in any way.
Thanks for sharing your time with me today! We're glad you stopped by. If you enjoyed this content, follow us on Facebook, Twitter, or Pinterest, or sign up for the twice-monthly mailing list to receive exclusive stories, updates, and more. Before you leave, would you mind taking a moment to pin to Pinterest and share on social media? It helps extend our digital reach in ways we can't do ourselves Thanks again! See you soon.
Want to read more articles like The Benefits of Repentance?
Here are links to a few other posts you might enjoy:?
What is Repentance and What is the Definition of Repentance?
How to Trust God in Hard Times
True Beauty Begins When Pride Ends
Here's an in-depth, life-changing digital Bible study to help you start the new year: