This article, "Life After COVID-19: Choosing Change Now" was written at the beginning of the pandemic. The recommendations in this article are still valid, and we're still doing the things we began back then. Our Zoom Bible study now meets twice a week and just celebrated our second anniversary. We're not fluent in French but a lot more proficient, and we memorized most of the Sermon on the Mount. The choices made at the beginning of the pandemic served us well and made the years of struggle count. W emerged stronger and with a greater sense of calling than ever before.
If you weren't as successful, don't worry. It's not too late to re-think life after COVID-19.
Life After COVID-19: What We Thought Two Years ago
"It's not too early to start thinking about life after COVID-19, isn't it? We're only two years into the pandemic quarantine…
"No. Wait.
"Maybe it's two weeks. Or three. Possibly a month…
"I hate to admit it but, unless I check the calendar, I'm not sure how long I've worked from home in this ongoing, never-ending, please-God-over-soon quarantine. My hope for an end to this sometimes falters and I suspect I'm not the only one.
"Can't researchers make a vaccine any faster? A cold is a virus so another virus is no big deal, right? Why won't people stay at home? Wear masks? Quit meeting?"
You know the questions we all asked and probably the solutions we secretly proposed because we were all in this together and we still are. We shared many of the same questions and frustrations.
Today, I want to shed a little hope and light on our mutually tough time.
There is life after…
It didn't seem possible for a long time, but there is life after COVID-19 and the pandemic. An enormous global opportunity lay before us. We had the rare option to use the time during the pandemic and resulting quarantine to seriously consider our lifestyles, keep what was honorable and good, and let go of the vain and meaningless. We had a chance to choose a better path than the one we were on. To choose change.
Most of us worked from home for a while. We built new patterns, new work habits. We learned fresh ways to celebrate birthdays, anniversaries, and holidays. Maybe we cooked at home more because eating out was not as easy an option as before. Our shopping habits, and likely our spending habits, changed considerably.
Surviving Pandemic Life
Pandemic life was seriously different from our "normal" lives but it wasn't all bad. Our quarantine forced us to slow down. Be still. Spend more time with our immediate families. Enjoy our children in new ways. Make an effort to stay connected to friends and family. It forced us to face the possibility of catastrophic illness and death and to evaluate the substance of our lives.
As a closet introvert, I probably struggled less with quarantine than my extrovert friends and I have to admit—I loved the isolation. The quiet. The stillness. The lack of crowds. I missed you all and would have loved to give everyone I've ever known (and a few I don't) a huge hug and maybe a kiss on both cheeks in the Middle Eastern way just to regain a little personal contact and sense of touch.
Life After COVID-19: The Opportunity
The COVID-19 pandemic was without a doubt a global tragedy of illness, suffering, and death but the greater tragedy is to fail to learn from it and seize the opportunity to choose change as we go forward. We could cling to our former lifestyle and attempt to return to the same hectic, insanely busy pace as before but why would we? Many of us were stressed to the max, exhausted beyond belief, and frantic with our out-of-control schedules before the pandemic. Why resume what was likely to kill us?
Why not choose a different path as we go forward?
Imagine for a moment what life would be like if we chose to keep our slower pace. What if we kept some of the changes we've made after we return to the workplace? Shop locally more often. Give up some of our busyness to spend more time with the people we say we love. Enjoy homemade fun. Write notes of encouragement. Embrace snail mail. Take long walks with our children and family. Picnic outdoors. Exchange fast food for slow-simmered delicacies. Learn new skills. Look out for our neighbors. See needs and meet them.
Life After COVID-19: The Choice of a fresh start
A new, slower pace and a fresh start is worth it.
Within a few months of the pandemic, we missed the blessings we took for granted…family, friends, church families, hugs, gatherings. What if we cherished them enough to keep them close as we go forward? Safeguard our connections. Strengthen our faith ties. Continue to spend time reading our Bibles, studying, and prayer.
The most important choice: What if we gave up our sense of entitlement and our me-first attitudes and, in life after COVID-19, chose to hunger and thirst after righteousness?
During an early Whisper Connection Zoom call, we talked about what it means to hunger and thirst for righteousness.
Choose Blessings
"Blessed are those who hunger and thirst for righteousness, for they shall be satisfied."
We asked the question, "For what do we hunger?" and came up with a variety of answers.
Health Peace Prosperity Meaning in life
Serve where we can be seen Connections Power Reputation Righteousness
We do want righteousness but it wasn't on the top of anyone's list.
The dictionary defines righteousness as freedom from guilt and sin. In practical terms it means so much more. When we hunger and thirst for righteousness, we allow God to correct what is wrong, sinful, less than godly in our lives and make it right, righteous, godly. We open our hearts to Jesus and allow Him to make us more like He intended.
I can say with confidence born of experience this process will force us to relinquish a few choice sins (especially the ones that seem "little" to us) and embrace a few disciplines. It will require us to allow God to smooth our rough spots and soften our hard. The search for righteousness will not allow us to remain unchanged but it will be worth it.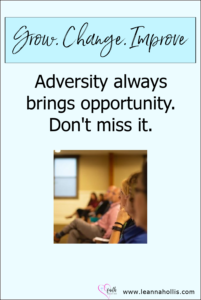 Life After COVID-19: A Fresh Start
My greatest pandemic fear was not sickness or death. It wasn't even someone I love becoming infected, sick, or dying, although those were very real fears. My greatest fear was leaving the pandemic unchanged by the experience, so I took steps to ensure my outcome. I hosted Monday through Friday Whisper Connection Zoom conversations, memorized most of the Sermon on the Mount, and started learning French. I made a start…
Friends, it's not too late to reconsider our lives, both pre-COVID and post-COVID. We can make new choices and make our lives different, more loving, kinder, more outward-focused, and more like Jesus.
Start Now:
Scripture:
Read Matthew 5:6, 2 Timothy 2:3-15, 22-24
Questions:
For what do I hunger and thirst?
How high is righteousness on my priority list?
How would my life look if I truly hungered and thirsted for righteousness?
When the pandemic and quarantine end, what changes do I want to see in my life after COVID-19?
Challenge:
Choose one positive change to begin over the next few weeks and make a start. (Learn a foreign language, memorize a passage of Scripture, learn a new skill, start a Bible study, etc) Commit to practicing your change every day during the next week. Ask someone to hold you accountable.
I hope this helps, friends. Let's don't come out of this battered and bruised in spirit and discouraged of heart. I'm counting on us all to make fresh starts and come out of this challenge so much better (and more like Jesus) than when we began. 
I'd love to hear about your personal positive change, so feel free to leave a comment. 
Au revoir pour l'instant, mes amis. Je prie pour vous. Goodbye for now, my friends. I am praying for you.
Leanna
Leannahollis.com is a participant in the Amazon Services LLC Associates Program, an affiliate advertising program designed to provide a means for sites to earn advertising fees by advertising and linking to amazon.com. This blog post contains affiliate links, which means if you click on the link to make a purchase, I may make a small amount of money (usually a few cents) from your purchase. It will not increase the price you pay in any way.
Want to read a little more?
Thanks for stopping by and sharing your time with us today! If you enjoyed this content, follow us on Facebook, Twitter or Pinterest, sign up for the twice-monthly mailing list to receive exclusive stories, freebies, and more, or click here to get a 5-day free Bible study and the twice-monthly newsletter.
Before you leave, would you mind taking a moment to pin to Pinterest and share on social media? It helps extend our digital reach in ways we can't do ourselves. Thanks again! See you soon.
Here are links to a few other posts you might enjoy:
How to Deal with Grief: Lessons Learned from COVID-19
How to Trust God in Hard Times
Will We Make Room for God in Our Lives?
Contentment Regardless of Circumstances
Here's an in-depth, life-changing digital Bible study to help you grow in your Christian faith:
(This is an Amazon affiliate link, which means I might make a few cents from your purchase but it will not change the price you pay)
Photo by RU Recovery Ministries on Unsplash. com