If you've wondered what does "God is love" mean for you or what the Bible says about love, read here to learn the answers, as well as reminders of how much God loves you, Bible verses about God's love, and find the best Bible quotes about God's love.

Have you ever felt unloved? A few weeks ago, our team talked with troubled teenagers above love. "Who loves you most?" we asked. One boy's answer stunned us. "No one loves me." The other students tried to encourage him and offered suggestions of people who might love him. "Surely your grandma loves you," they insisted, but he was adamant. "Nope. There is no one who loves me." He may feel unloved, but he isn't—because, as we shared with him, God loves us all.
What does "
God is love"

mean and what does the Bible say about God's love?
1. God is Love: Lovingkindness
Bible verses about love: Lovingkindness
Then the Lord passed by in front of him and proclaimed, "The Lord, the Lord God, compassionate and gracious, slow to anger, and abounding in lovingkindness and truth; who keeps lovingkindness for thousands, who forgives iniquity, transgression, and sin…" Exodus 34:6,7
Moses spent forty days with God on Mount Sinai. When he returned to the camp, the first tablets of the law in hand, he found the children of Israel having a boisterous, golden-calf-worshipping party. Horrified and angered by their sin, Moses smashed the original tablets.
Eventually, Moses returned to the mountain with the second set of stone tablets on which God once more wrote the law. Moses stood before Him and, as he worshipped, God demonstrated His character in a surprising way.
Despite the idolatry and unfaithfulness of His people, God revealed Himself as slow to anger, compassionate, gracious, forgiving, abounding in lovingkindness. His behavior toward his people was determined not by what they did but by who He is—because God is love.
The word translated as "lovingkindness" is hesed and indicates the grace, mercy, and love of God toward men. This word is used more than 250 times in the Old Testament and most often refers to the love of God. Forgiveness for our sin is given on the basis of His lovingkindness.
This is not in the heat of the moment love, but a nevertheless kind of love that endures regardless of our failures. He "keeps" His lovingkindness and it never varies, never changes. Although He disciplines us for our sin, His judgment is tempered by His great lovingkindness, or hesed.
Bible quotes about God's love:
His love endures forever.
God loved us and sent His Son.
2. Steadfast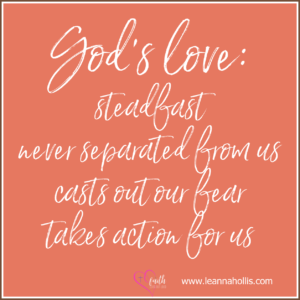 Bible verses about God's love: Steadfast
"Who is a God like you, pardoning iniquity and passing over transgression for the remnant of his inheritance? He does not retain his anger forever, because He delights in steadfast love." Micah 7:18
The prophet Micah lived in a discouraging time in which no one was trustworthy or dependable. He could not turn to anyone except God in his distress, but one important truth gave Micah great hope: the love of God. He described this love, or His grace, mercy, and favor, as steadfast. It is firm and unwavering, dependent not upon us but upon His never-changing character.
God loves all the time. His love constrains His discipline and judgment and fuels His mercy and grace.
Bible quotes about love:
His steadfast love endures forever.
3. Inseparable
Bible verses about God's love: Inseparable
"For I am sure that neither death nor life, nor angels nor rulers, nor things present nor things to come, nor powers, nor height nor depth, nor anything else in all creation, will be able to separate us from the love of God in Christ Jesus our Lord." Romans 8:38,39
If two years of the pandemic taught us anything, it was how quickly we can be separated from loved ones by circumstances beyond our control. Lockdowns and border closures. Exposure-related quarantines and infection-related isolation. Hospitals were locked down to all except staff and patients. Loved ones died alone while we were powerless to reach them. We were separated from friends and family in an instant by the power of an organism too small to see.
Despite the isolation we felt, we were never alone. Our God who loves us was with us all the time. Every day. All day and all night. Scripture tells us nothing—not death, life, viruses, government regulations, lockdowns, isolation, disease—nothing can separate us from the love of God in Christ Jesus. Because God is love, He offers us inseparable love. We're never alone and we're never unloved.
Bible quotes about God's love:
Nothing can separate us from the love of God.
4.
Fearless
Bible verses: Fearless
"By this is love perfected with us, so that we may have confidence for the day of judgment, because as he is so also are we in this world. There is no fear in love, but perfect love casts out fear. For fear has to do with punishment, and whoever fears has not been perfected in love. We love because he first loved us." 1 John 4:17-19
We live in a scary world, and a quick scroll through your news feed will confirm. The dreadful "What If" family of fears can invade when we least expect it and leave us trembling and paralyzed, afraid to make a move.
Those "what if," paralyzing fears are not from God. Instead, the Bible tells us God's perfect love casts out fear. Hear this loud and clear: You are loved. God wants to build a relationship with us, not unleash a nightmare of terror. If we are overwhelmed by fears, we can ask God to help and He will.
Bible quotes about God's love:
Perfect love casts out fear.

5. Action
Bible verses about God's love: Action
"But God shows his love for us in that while we were still sinners, Christ died for us." Romans 5:8
"So we have come to know and to believe the love that God has for us. God is love, and whoever abides in love abides in God, and God abides in him." 1 John 4:16
These two verses paint a word picture of the love of God in action. God demonstrated His love by sending Jesus to die on the cross. It was a scandalous and outrageous plan. We had a sin debt we couldn't pay. Rather than condemn the entire world to hell, God paid our debt Himself.
We can't earn His generous gift and we can never repay Him but His requirements are simple. Accept the gift of redemption and love Him with all our heart, soul, mind, and strength. When we love God completely, we will listen to His Word and obey.
It's a good deal. We gain forgiveness, eternal life in heaven, and the constant presence of God's Holy Spirit in exchange for loving the One who loves us enough to die for us and obeying the One who has the best plan for us.
Because He is the very definition of love, God does more than love from a distance. He comes close and literally lives inside us by His Spirit, fills us up with Himself. Ponder that a moment. Unconditional, unending, fear-fighting, steadfast, inseparable God-Love takes up residence inside us and no one can take it away. That's mighty big love, isn't it? It's love worth having for ourselves.
Bible quotes about God's love:
God is love.

What does God expect of us?
Bible verses about God's love: Our part
"And he answered, "You shall love the Lord your God with all your heart and with all your soul and with all your strength and with all your mind, and your neighbor as yourself." Luke 10:27
One of the religious leaders of the day asked Jesus a trick question. "What's the greatest law of God?" He wanted Jesus to pick the most important law because no matter which Jesus chose, someone would be upset. Instead, Jesus summarized the entire law in one simple sentence.
Love God with all your being and love your neighbor the same way you love yourself.
It should be easy (and would be) if we got the "love God with all of you" part right. In a me-first world of entitlement, though, loving God requires us to put His will and His ways above our own. We want His love, and who wouldn't? Unfortunately, we also what we want, when we want it, too—but we can't have it both ways.
How can we love anyone, especially God, this much? The Bible calls this process "dying to self." We acknowledge what we want but we seek God's will and His way. Sometimes, or more likely often, we give up what we want in order to do things God's way. It doesn't take long to see how much better His way is than ours.
Bible quotes about God's love:
Love God and love your neighbor.
How does God demonstrate His love through us?
Bible verses about God's love: What love looks like
1. Galatians 5:22, 23
"But the fruit of the Spirit is love, joy, peace, patience, kindness, goodness, faithfulness, gentleness, self-control; against such things there is no law."
When we are a disciple of Christ, His Spirit works in us to make us more like Jesus and less like the world.  We develop more love, joy, peace, patience, kindness, goodness, faithfulness, gentleness, and self-control. The work of growing fruit in us isn't optional. It's what the Spirit does and the process of fruit-bearing continues the rest of our lives.
We don't pick or choose which fruit we want, either. Instead, God plans for us to have it all because they each work together to accomplish a whole. Faithfulness helps us want God's best. Patience helps us wait for it.
2. 1 Corinthians 13:4-5
"Love is patient and kind; love does not envy or boast; it is not arrogant or rude. It does not insist on its own way; is not irritable or resentful; it does not rejoice at wrongdoing, but rejoices with the truth. Love bears all things, believes all things, hopes all things, endures all things. Love never ends." 
We often hear these words during weddings to speak of how one spouse expects to love the other. What we sometimes miss is these verses give a word-picture of God's love, too. Read through these verses and make them personal. "God is patient toward me…" "God is kind toward me…" Stunning isn't it? Is this the kind of love we exhibit toward others, including those we find difficult in some way? If not, it is supposed to be.
3. Matthew 5:43-46
"You have heard that it was said, 'You shall love your neighbor and hate your enemy.' But I say to you, Love your enemies and pray for those who persecute you, so that you may be sons of your Father who is in heaven. For he makes his sun rise on the evil and on the good, and sends rain on the just and on the unjust. For if you love those who love you, what reward do you have?
This is one of those passages that come with an "ouch." Jesus challenged us to do more than love those who love us. He also called us to love those who hated us, our enemies, as well as those who persecute us. His disciples didn't know it at the time, but shortly after Jesus returned to earth, persecution would threaten to destroy the church. Love was the way to overcome such hatred and we see this in Scripture over and over again. We are to love the easiest to love as well as the hardest.
4. John 13:34
"A new commandment I give to you, that you love one another: just as I have loved you, you also are to love one another."
It's not enough to love a little. Jesus calls us to love the way He loves. Sacrificial. Unconditional.
When we allow love to flow through us, we will treat others as 1 Corinthians describes. There's an important truth hidden in 1 Corinthians we don't want to miss. Those beautiful words also describe our loving God. He is patient, kind, steadfast, faithful. God's all 1 Corinthians 13 describes and more. He loves us and wants to love others through us.

Bible quotes about God's love:
Love one another.
Scripture verses about God's love:
Bible verses about love: 
Do you feel a little like the boy mentioned at the beginning of this article and as if no one loves you? Have you wondered if God could possibly love you? We have good news. Yes. God loves you, and He has a good plan for you which begins with a relationship with Him.
Here are three more verses you may find encouraging:
"For God so loved the world, that he gave his only Son, that whoever believes in him should not perish but have eternal life." John 3:16
"The Lord is not slow to fulfill his promise as some count slowness, but is patient toward you, not wishing that any should perish, but that all should reach repentance." 1 Peter 3:9
"For I know the plans I have for you, declares the Lord, plans for welfare and not for evil, to give you a future and a hope." Jeremiah 29:11
God loves you more than you can comprehend and He's waiting for you to accept His love. His plan for your life is good—filled with hope for a beautiful future.
7 Best Bible quotes about God's love:
God is love.
Love one another. 
Don't just love those who love you; love your enemies, too. 
Love never ends.
Perfect love casts out fear.
Love your neighbor as yourself.

We love because He first loved us.

To learn more about how to have a relationship with God, click here.
Click here for a printable version of these verses about God's love
Click here for free printable Scripture cards about God's love
You might also enjoy The Gift of God's Love
How a Lost Canoe Reminded Me of God's Love
or this digital Bible study on the book of James, designed to help you learn to live the life of a disciple. (this is an affiliate link)
If you found this article helpful, please consider signing up for our twice-a-month newsletter. DEVOTIONAL NEWSLETTER SIGN UP
1. "H2617 – ḥeseḏ – Strong's Hebrew Lexicon (nasb95)." Blue Letter Bible. Accessed 11 Feb, 2022. https://www.blueletterbible.org/lexicon/h2617/nasb95/wlc/0-1/
Photo by Emmanuel Phaeton on Unsplash about