The Unfaithful Servant
Jesus told the parable of a master who entrusted a bag of gold coins to each of three servants. He didn't give them detailed instructions. Instead, he trusted them to do something with what they'd been given. When the master returned to receive their report about the money, two servants heard the words, "Well done, good and faithful servant," but one did not.
The unspoken expectation was for them to use the money to make a profit. One servant was afraid and hid the money in a hole. When the master asked for an account, the money was safe but the servant had no profit at all. He made all kinds of excuses. He didn't trust the master, but he was also afraid of him. The faithless servant wanted to do the safest thing.
The master accepted exactly none of his excuses. The Leanna paraphrase is coming up: "You knew I expected you to do something with what I entrusted you and you did nothing. I'm done with you." He turned to one of his other workers. "Take the money I entrusted to him and give it to my best servant, the one who did the most."
No doubt the faithless servant felt it was unfair. He probably whined all the way out the door but his excuses made one thing clear. He knew his master expected something from him, yet he refused to make even the least effort. His lack of effort brought no reward and, in fact, reflected both his poor understanding of his master and their tenuous relationship.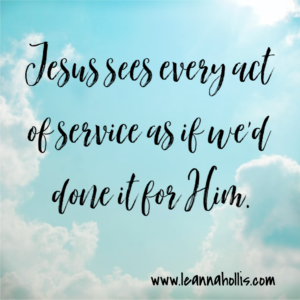 Well done, good and faithful servant
The other two servants understood their master's expectation for a return on his investment and were eager to please him. They made a profit from the money they'd been given and presented it with enthusiasm. In return, the two faithful servants heard the words, "Well done, good and faithful servant," from their master. It was high praise from an exacting taskmaster.
Jesus compared their experience to the final judgment when He sits on his throne. The sheep on his right will be surprised by his commendation. (The Leanna Paraphrase is coming up again.) "Well done, good and faithful servant. You served me in so many ways. Come on in and receive your reward."
Those servants will be so surprised! "Jesus, I don't remember doing any of that."
He'll just smile. "Dear one, I saw every act of service as if you'd done it to me. Thank you."  (from Matthew 25:34-40) Those are not the exact words, of course, but you get the gist.
How to be a good and faithful servant: Know whom you serve
The first step in becoming a good and faithful servant is to know the one we serve. The faithful servants clearly knew their master well. They knew he had high expectations but was also fair and rewarded hard work. Their efforts reflected their relationship with the master.
In the same way, we serve Jesus most effectively when we know Him in an intimate way through time spent in prayer, in-depth Bible study, and steadfast obedience. When we make an effort to know Jesus in a personal way, we begin to learn what He expects of us and the kind of selfless, loving service He expects.
How to be a good and faithful servant: Recognize your talents
 Last night, I had an experience with my little dogs that brought the moment of "Well done, good and faithful servant" into focus in a new way. I let Maggie and Mamie, my two Shih Tzus, out the back door one more time before we went to bed. Mamie was surprisingly efficient and was back inside in no time. 
Maggie, however, was another story. The rumble of the train as it passed through our town was barely audible in the distance. Maggie doesn't like the deep rumbling sound so she barked her hardest to make it stop, just as she always does.
I finally grew tired of the barking, stepped outside, and walked toward Maggie. Her little barking did nothing at all to stop the big train, but I said what she waited to hear. "Good job, Maggie. You can come in now."
It's a Shih Tzu's job to be territorial and protect its owner. When Maggie barks at the train, she's doing what she was born to do and waiting for affirmation of her faithfulness.
Like Maggie, we are also uniquely created and equipped to serve in specific ways. Whether we are best equipped to preach, teach, sing, or serve meals to hungry people, we all have gifts and abilities we can use for the kingdom of God. We were never intended to keep our "talents" to ourselves nor to hide them in a hole.
How to be a good and faithful servant: Do something with what you have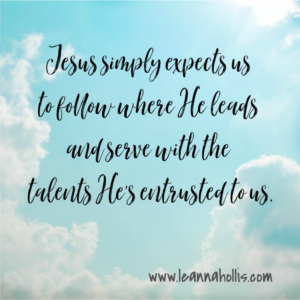 The master didn't expect the servants to make a million dollars from their bag of coins. He simply expected a good effort and he rewarded those who did something with what he'd entrusted to them whether they'd made the biggest return or not.
In the same way, Jesus does not expect us to preach the greatest sermon ever heard, sing the most popular song in the world, serve the most hungry people, or give every penny we have to the poor. He doesn't expect us to bring every person in the world to Him on our own. Jesus simply expects us to follow where He leads and serve with the gifts and abilities He's entrusted to us.
If we are gifted in childcare, he expects us to serve children with love to the best of our abilities. He expects a cashier in a grocery to serve faithfully, honestly, with love and good cheer. If we're a writer, He expects us to write and let someone read what we've written. The same kind of expectation applies to every gift we have. We are to serve where He places us, love those we serve to the best of our abilities, and do it all because we love Him more than anything. 
Jesus condensed all the law into two simple commandments. Love God most of all. Love your neighbor as yourself. When we do those two things, we will serve as He intended and please Him with what we do.
Hearing the words we most want to hear…
One day, we'll step into eternity and listen expectantly for the words we most want to hear. "Well done, good and faithful servant." Hearing those words then depends upon the choices we make now, upon the actions we take.
As believers, our salvation from hell is faith-based and utterly dependent upon our relationship with Jesus. We can't work our way into heaven. We must surrender to the Lordship of Jesus.
Our commendations in eternity however are, in many ways, works-based and given based upon what we do with what we've been given. Did we take five talents and turn them into ten? Did we take one talent and turn it into two or did we bury the one talent we had and do nothing at all with it?
We can one day hear "well done" from our Heavenly Father, but only if we do well now.
4 Steps to hearing God say, "Well, done good and faithful servant"
Know Jesus intimately

Recognize our own talents and abilities

Follow where He leads

Serve with love

Time for a little introspection:
What am I doing with the talents God has given me?

Will the way I use my God-given talents to earn a "well done" in eternity or not?

How can I use my abilities more effectively to serve Jesus by serving others?
"His master said to him, 'Well done, good and faithful slave; you were faithful with a few things, I will put you in charge of many things; enter into the joy of your master." Matthew   25:23 nasb
Leannahollis.com is a participant in the Amazon Services LLC Associates Program, an affiliate advertising program designed to provide a means for sites to earn advertising fees by advertising and linking to amazon.com. This blog post contains affiliate links, which means if you click on the link to make a purchase, I may make a small amount of money (usually a few cents) from your purchase. It will not increase the price you pay in any way.
Thanks for sharing your time with me today! I've glad you stopped by. If you enjoyed this content, follow me on Facebook, Twitter or Pinterest or sign up for the twice-monthly mailing list (below) to be notified about my future blog posts. Before you leave, would you mind taking a moment to pin to Pinterest and share on social media? It helps extend my digital reach in ways I can't do myself. Thanks again! See you soon.
Want to read more? Here are links to a few other posts:
Will We Make Room for God in Our Lives?
Repentance and the Benefits Package
Is it Possible to Walk the Blameless Path?
When We're Finally Sick of Our Own Sin 
Horses and Humans and the Tendency to WanderHere's an in-depth, life-changing digital Bible study to help you grow in your Christian faith:
(This is an Amazon affiliate link, which means I might make a few cents from your purchase but it will not change the price you pay)
You've helped us reach around the world with your likes, shares, and pins. Thank you! Please keep up the great work. It makes a huge difference. It would mean so much to me if you'd take a moment and pin one of the blog post images on Pinterest and share it on social media. Click on the Pinterest icon and several images will appear. for you to choose from. Thank you again!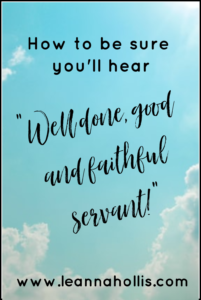 Want to know more about Leanna Hollis and her ministry of prayer and outreach? Click here to find the latest ministry newsletters
Scroll down to sign up for her blog/writing newsletter. It also includes links to current ministry newsletters.