If you wonder if you can make a fresh start, or how I can make a fresh start, this guide on how to make a fresh start can help. Perhaps your social media feed is similar to ours. It's not filled with suggestions for how to serve others or how to lay down your life for something you believe in or someone you love. Instead, it's filled with recommendations for how to optimize your time,  practice good "self-care," improve your appearance, or work less but get more done. Judging by a recent review of social media, we might be a bit self-absorbed.
Before we talk about how to make a fresh start, let's pause for a moment and consider the end goal of life. Do we want to die with tight skin, a tiny waist, and a well-organized planner? If so, the self-help gurus may be of assistance. If we want to leave a heritage and a legacy instead, perhaps it's time to look elsewhere for guidance.
Where do we go for information on how to make a fresh start?
If social media isn't handing out the best information on how to have a life that counts, and it's not, who is? Ponder that question for a moment, then consider John 14:6:
"Jesus answered, 'I am the way and the truth and the life…"
If we want our "best life now" as well as transformation and victory in the coming years, we won't find it in a self-help book unless our "self-help" book is the Bible. We won't find what we seek in a "word of the year" unless our word reflects surrender and obedience to the Lordship of Jesus Christ.
Our best life may not be what we think we want.
According to Jesus, He's the only one who can give us our "best life." He didn't use those words, but it's what He meant.
"…I came that they might have life, and might have it abundantly." John 10:10
The word translated as abundantly is perissos and means "Over and above. Super-added. Exceeding. Abundantly. Supremely." (1) Here's the "Faith Lived Out Loud Paraphrase": "I came so you can have your best life." 
Selah. Pause and consider.
We find our best life now in Christ alone.
How do we make a fresh start and achieve the abundant life Jesus offers? It's amazingly simple. It's astoundingly hard. Three easy steps can take us to the kind of life most people only dream about.
Repent

Follow

Repeat

How to Make A Fresh Start: Begin with Repentance
Our life may look great by the world's standards, but our best life begins with a careful look at our hearts and an honest appraisal of our mistakes according to God's standards. We've all done wrong actions and entertained wrong thoughts (sinned). We deal with those by confessing them to God and asking for His forgiveness.
Let's take a moment to consider and confess our failures.
Scripture tells us He removes our sins as far as the east is from the west and remembers them no more.  If God lets our mistakes go, we should do the same. It's not repentance if we hold on to our sin, so let's quit rehashing and give our mess to Him. No more take-backs.
How to Make a Fresh Start: Begin to Follow
Jesus called His disciples with two simples words: Follow Me. They left their old lives behind and spent every available minute with Jesus. They did what He did. Went where He went even when it was not politically correct. Lived as He lived.
They obeyed.
If we follow Jesus, we spend time with Him through Bible study and prayer. We do what He says. Love as He loves. Forgive as He forgives. His priorities become our own. We let go of our desire for more stuff and find our contentment in more of Him. We obey in big and small areas, even when it's hard. 
How to Make A Fresh Start and Maintain it? Repetition
It would be convenient if we could repent one time and be through for eternity but it doesn't work that way. We all fail—whether by the hasty word, impure thought, unkind deed, or neglected obedience. If we want to maintain the sweet closeness Jesus intended, we must be consistent in repentance and obedience. If we make a mistake, we repent, shake it off, and get up again. In a way, we make another fresh start.
Repent. Follow. Repeat. For the disciple of Jesus, it's more than a mantra. It's a way of life and the key to how to make a fresh start now and throughout the years to come. When we unload our sin burden by confession and repentance, we have a fresh start. We enjoy a sweet relationship with Jesus through time spent with Him and a lifestyle of obedience. Only then do we experience the abundance He intended.
Abundance doesn't mean stuff
Jesus didn't promise an easy life or earthly wealth. In fact, He promised us trouble and trials. Does that sound like the "best" kind of life? Maybe not. The "best," however, can be found in His presence despite our trouble and trials and the resulting fruit of the Spirit: Love. Joy. Peace. Patience. Kindness. Goodness. Faithfulness. Gentleness. Self-control. (Galatians 5:22-23)
We don't have a smorgasbord of spiritual fruit from which we must pick and choose. Instead, we have the opportunity of a lifetime filled with all of it.
A glimpse of "best"
When we repent of our sins, receive Christ's forgiveness, and make a fresh start by following Jesus, we find in Him our best friend, comforter, guide, healer, and teacher. We are never alone and need never despair, no matter what we face. Over time, He fills our life with love, joy, peace, and all the other aspects of His fruit. We may not have worldly abundance but we can be content with what He gives because Jesus is always enough.
If you're ready for change and want to know how to make a fresh start now, it's time to begin. Instead of focusing on "self-care," take a look at your soul instead. Turn to Jesus, let Him cleanse you (for the first time or for the once-again time), and spend the coming years as a follower—not of the world but of the One who created the world and still holds it in his no-slip grip.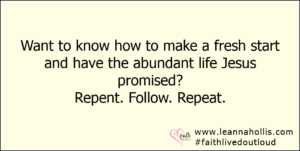 How to Make a Fresh Start: 3 Easy Steps
Repent
Follow
Repeat
1)"G4053 – perissos – Strong's Greek Lexicon (NASB)." Blue Letter Bible. Accessed 1 Jan, 2020. https://www.blueletterbible.org//lang/lexicon/lexicon.cfm?Strongs=G4053&t=NASB
Want to read more like How to Make a Fresh Start?
While you're here, check out these blog posts:
How to Trust God in Hard Times
What Does it Mean to Be Beloved?
What Does it Mean to Be a Disciple of Jesus?
Why We Should Choose Humility and Let Go of Pride
Thanks for sharing your time with us today. Before you go…
Sign up for our

twice-a-month newsletter

to receive exclusive stories, freebies, and more.
Leave a comment and share this post on your social media pages or through email.
Bookmark our website so you can visit us often.
Take a look at

Today's Encouragement

before you go. We add to this every weekday.
Here's an in-depth, life-changing digital Bible study to help you grow in your Christian faith:
(This is an Amazon affiliate link, which means I might make a few cents from your purchase but it will not change the price you pay)
You've helped me reach around the world through your likes, shares, and pins. Thank you! Please keep up the great work. It makes a huge difference. Here's a pinnable image for Pinterest. Thanks for pinning and sharing!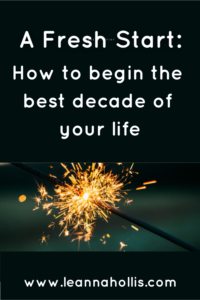 or y