My gratitude Jar project started in late 2015. Small slips of paper on which were written notes about answered prayers, evidence of God in my life, and things for which I was grateful went in the jar throughout the year. The stack of papers grew a little more every year.
On New Year's Day a couple of years ago, I went through the slips and read every one. It was amazing to see how all the hard times turned into good. I was stunned to see how often I'd felt on the brink of disaster in the last few years, as well as the ways God had carried me through. I wept as I read them, not from sorrow, but pure, overwhelming gratitude. The tiny notes were precious, so I kept every single one in the Gratitude Jar, even the "outdated" ones.
Last year, my Thanksgiving notes became fewer and farther between. I didn't record much, which makes me sad. It was an amazing year. The good times are still clear in my mind but not as fresh as if I'd written a wonder-laced note in the moment.
Recently, I read through all the slips from past years and felt the sense of deep thanksgiving all over again. Even during the toughest times, there was always something for which I could give thanks. During those years, my employee of three decades developed worsening dementia. I moved him into my home and provided hospice care night and day for months. He died after a long and difficult season. I felt adrift and unsure of how to take care of my property when he died. The simple act of mowing my lawn was unfamiliar and difficult. My learning curve was tremendous. They weren't easy years. They were agonizing, weeping-in-the-night years.
Because of the blessing jar, I know they were also miracle-around-every-corner years. Friends and family stepped up and helped me when I didn't know how to help myself. Learning new life skills became an adventure. I had many little victories along the journey to self-sufficiency. If not for the blessing jar, those tiny God-moments would be lost forever.
I want to do a better job of preserving my gratitude during the coming months, so I've slipped a supply of paper strips in my planner. They're blue for the photo, but I'm changing to white strips for ease of reading. When a moment of gratitude comes, I'll be ready because I'm prepared ahead of time.
Decide in advance to give thanks, and make preparation for gratitude.
It's a Biblical principle we'd do well to consider. Giving thanks doesn't happen automatically. It's much easier to give thanks in hard times if we decide in advance to do so. Our willingness implies a decision to look past our circumstances to find the blessing in the midst of difficulty.
Most of us choose to set goals and make plans to achieve them. Let's make sure gratitude is one of the goals we set.
Let's live intentionally grateful and give thanks in all things, whether easy or hard.
Why not prepare for gratitude by adding a few slips of blank paper to your planner? Make a note of even the smallest moment of thanksgiving, the simples blessing, and store in your Gratitude Jar. When next year rolls around, you too can read through your blessings one by one and celebrate the decision to live grateful in a blessed life.
"In everything give thanks; for this is God's will for you in Christ Jesus." 1 Thessalonians 5:28 nasb
Thanks for sharing your time with me today! I've glad you stopped by. If you enjoyed this content, follow me on Facebook, Twitter or Pinterest or sign up for the twice-monthly mailing list (below) to be notified about my future blog posts. Before you leave, would you mind taking a moment to pin to Pinterest and share on social media? It helps extend my digital reach in ways I can't do myself. Thanks again! See you soon.
Want to read more? Here are links to a few other posts:
Seven Steps to Regain a Heart of Gratitude
When I Traded My Happy Heart for Grumbling and How I Got it Back
Will We Make Room for God in Our Lives?
Repentance and the Benefits Package
Here's an in-depth, life-changing digital Bible study to help you grow in your Christian faith:
(This is an Amazon affiliate link, which means I might make a few cents from your purchase but it will not change the price you pay)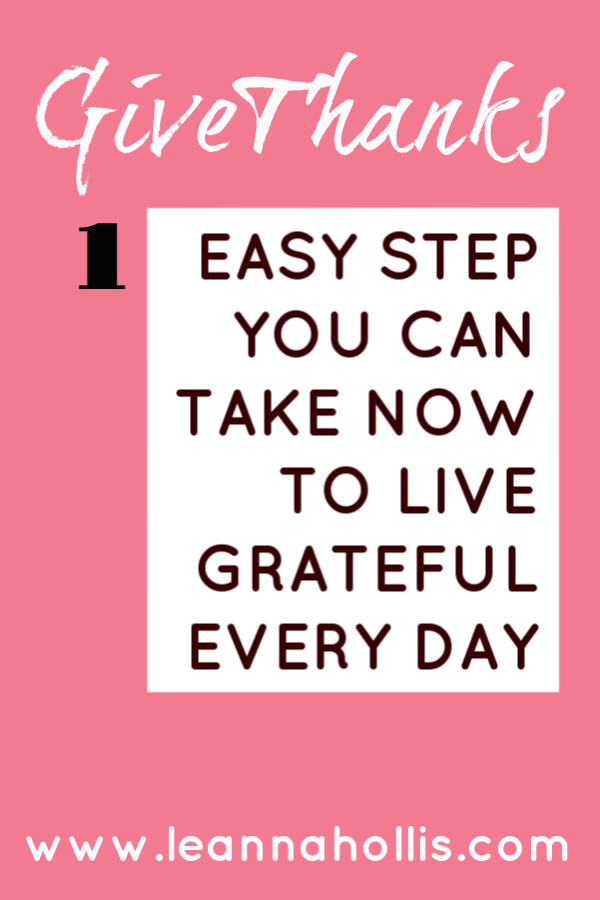 Want to know more about Leanna Hollis and her ministry of prayer and outreach? Click here to find the latest ministry newsletters
Scroll down to sign up for her blog/writing newsletter. It also includes links to current ministry newsletters.