I opened my computer to write this morning and the only topics on my mind were single-digit temperatures and frozen water pipes. If you follow me on social media, you probably saw a few of my whining complaints that the pipes at the barn froze and I've had to haul water for the horses.
I dread January because of the problem of the pipes. This morning, I flipped through blog posts from Januarys past and found that, several years ago, I had the same problem, only bigger.
The pipes and automatic waterers froze back then, too. I hauled water just as I'm doing now. In 2014, however, I hauled water for cows and chickens, as well as horses. The amount of water I toted was enormous.
The fix is in the box
Why haven't I solved this problem in the 28 years I've lived here? I asked myself the same question every day since the cold snap began. I'm ashamed to admit the "fix" is in the tack room of my barn, ready to be installed.
A frost-proof hydrant is still in the box.
A few years ago, all the water lines from outside my house to the barn froze. I did a little research and found my difficulties could be solved (or greatly diminished) by a different hydrant, with an underground valve. I bought one and Sam (who worked on my farm) used it to replace the hydrant at the garden.
He thought something was wrong with the new hydrant, so I bought another to replace it. As it turned out, the leak was due to an installation error, so I ended up with an extra hydrant.
My winter water problems would be solved if I'd installed the second hydrant in the hallway of the barn. I carried the hydrant to the barn and stored the hydrant there, but never installed it, partly because I forgot about it.
Delay didn't help
When I saw the weather forecast for frigid weather, I remembered the frost-proof faucet. By the time temperatures plummeted, it was too late.
The difficulties I've faced in the last few days are my own fault. They were also mostly preventable. I don't have a good solution for the automatic waterers because of their distance from a source of electricity. The frozen water faucet, however, could've been prevented.
Sam didn't worry about frozen pipes because he had a plan that worked. He wrapped the pipes with towels, stacked hay around them, then covered them with a big rug.
I thought Sam's way made a mess in the barn and seemed iffy at best, even though it worked most of the time. This year, I used foam insulation caps over the hydrants instead. They weren't messy, but they also weren't enough. Sam knew that, but I didn't believe him. I do now.
The last second chance
In a few weeks, the temperatures will improve, the pipes will thaw, the water will flow. I'll have another second chance to have the faucet installed and solve my difficulties.
Not every problem comes with a second chance, however. One day, Scripture tells us, Jesus will descend from heaven with a shout. We who are alive will be caught up and meet Him in the air.
On that day, all the second chances will be over. 
It won't matter what we planned to do or whether or not we intended to follow Christ eventually. If our eternal destination is not secured when Christ returns, it will be too late.
Let's address the most important question of all for a moment.
Where do I stand with Jesus?
Am I a disciple or merely an interested bystander?
Jesus never called anyone to sit on a pew or serve on a committee. He calls us to follow. If we belong to Him, that's what we'll do.
Today is our second chance, so let's use it well. Jesus is coming again. Live ready.
"For the Lord Himself will descend with a shout, with the voice of the archangel, and with the trump of God; and the dead in Christ shall rise first. Then we who are alive and remain shall be caught up together with them in the clouds to meet the Lord in the air, and thus we shall ever be with the Lord." 1 Thessalonians 5:16,17 nasb
Leannahollis.com is a participant in the Amazon Services LLC Associates Program, an affiliate advertising program designed to provide a means for sites to earn advertising fees by advertising and linking to amazon.com. This blog post contains affiliate links, which means if you click on the link to make a purchase, I may make a small amount of money (usually a few cents) from your purchase. It will not increase the price you pay in any way.
Thanks for stopping by and sharing your time with me today! I've glad you stopped by. If you enjoyed this content, follow me on Facebook, Twitter or Pinterest, sign up for the twice-monthly mailing list (below) to be notified about my future blog posts, or click here to get a 5-day free Bible study and the twice-monthly newsletter.
Before you leave, would you mind taking a moment to pin to Pinterest and share on social media? It helps extend my digital reach in ways I can't do myself. Thanks again! See you soon.
Want to read more? Here are links to a few other posts:
Biting Cat and the Spring Clean Up of Repentance
The Prodigal Puppy and the Rescuer Who Brought Her Home
Will We Make Room for God in Our Lives?
How to Trust God in Hard Times
Repentance and the Benefits Package
Here's an in-depth, life-changing digital Bible study to help you grow in your Christian faith:
(This is an Amazon affiliate link, which means I might make a few cents from your purchase but it will not change the price you pay)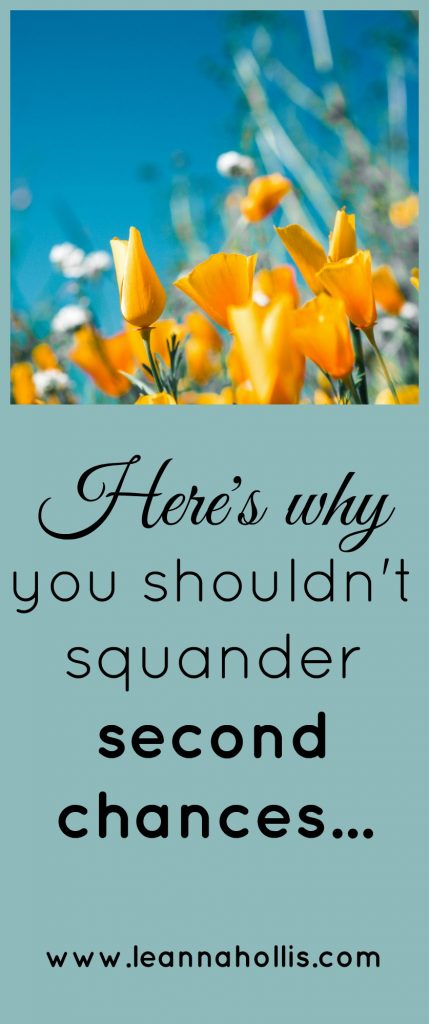 Want to know more about Leanna Hollis and her ministry of prayer and outreach? Click here to find the latest ministry newsletters
Scroll down to sign up for her blog/writing newsletter. It also includes links to current ministry newsletters.